Funny keychains, a hot man/dog calendar, and "memory mints" are just some of the funny Gag Gifts For Women you'll find on this list.
For more ideas, check out all of our gift guides.
This is an actual look at how I felt with the gift Pete bought me for my birthday this year. I wish I had a picture of his reaction because he laughed and laughed and absolutely loved the gag gift he gave me.
Although he didn't actually consider it a gag gift. But I did.
If you want to be on the giving end of a gag gift for a woman, you're in luck. We put together a list of very funny — and very appropriate — gag gifts for women.
So many gag gifts are very inappropriate, and I didn't want to include any of those. These are all family-friendly gifts that you can open in mixed company.
And yes, the sign that Pete gave me is on this list too. Don't worry.

This Gag Gift Ideas list is just one of the gift guides we have on Drugstore Divas in hopes of making your shopping life so much easier.
Be sure to check out Drugstore Divas' Holiday Gift Guide for all of our shopping guides.
15+ Gag Gifts For Women
Affiliate links are included in this post and Drugstore Divas may make a small commission if you use them.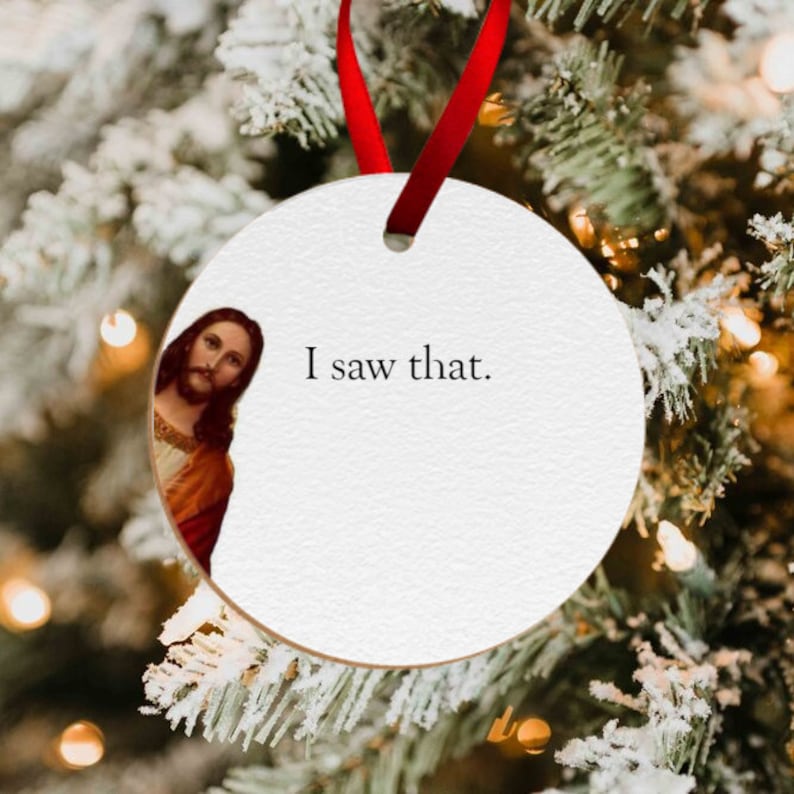 Jesus "I saw that" Ornament
Jesus is the reason for the season. And he's also the reason your friend may (or may not) be making such great life decisions. He's watching. Like Santa. But without the presents.
So this Jesus "I saw that" Ornament, based on the very popular meme, is the perfect gag gift and the perfect Christmas tree decoration.
A Wise Woman Once Said "f this s" And She Lived Happily Ever After Wine Glass
You know what. Sometimes a women has had enough. And at that point, saying "screw it" and starting a new path causes the best results. And sometimes that path, and the getting there, involves wine.
So this A Wise Woman Once Said "f this s" And She Lived Happily Ever After Wine Glass is absolutely perfect. It's a good reminder that she is woman, hear her roar, she's got this, and all those other buzz phrases.
Because I Know You Love Dogs Calendar
People love dogs. Not me. But people. But after finding this Because I Know You Love Dogs calendar online, I get it.
What's so (obviously) funny is that although there are dogs on the calendar every month, there are also topless men. Which is the joke of the calendar.
Although, it's not funny when you have to explain the punchline, amirite?
The Screaming Goat (Book & Figure)
Does your friend need a screaming goat figure that screams? No. But also yes. It's ridiculous and a piece of Internet lore gone to far, and it's amazing and unnecessary and really, isn't that the goal of a gag gift?
And, if all of this is lost on you, please watch this video of screaming goats and it will make sense (and make its way into your cart).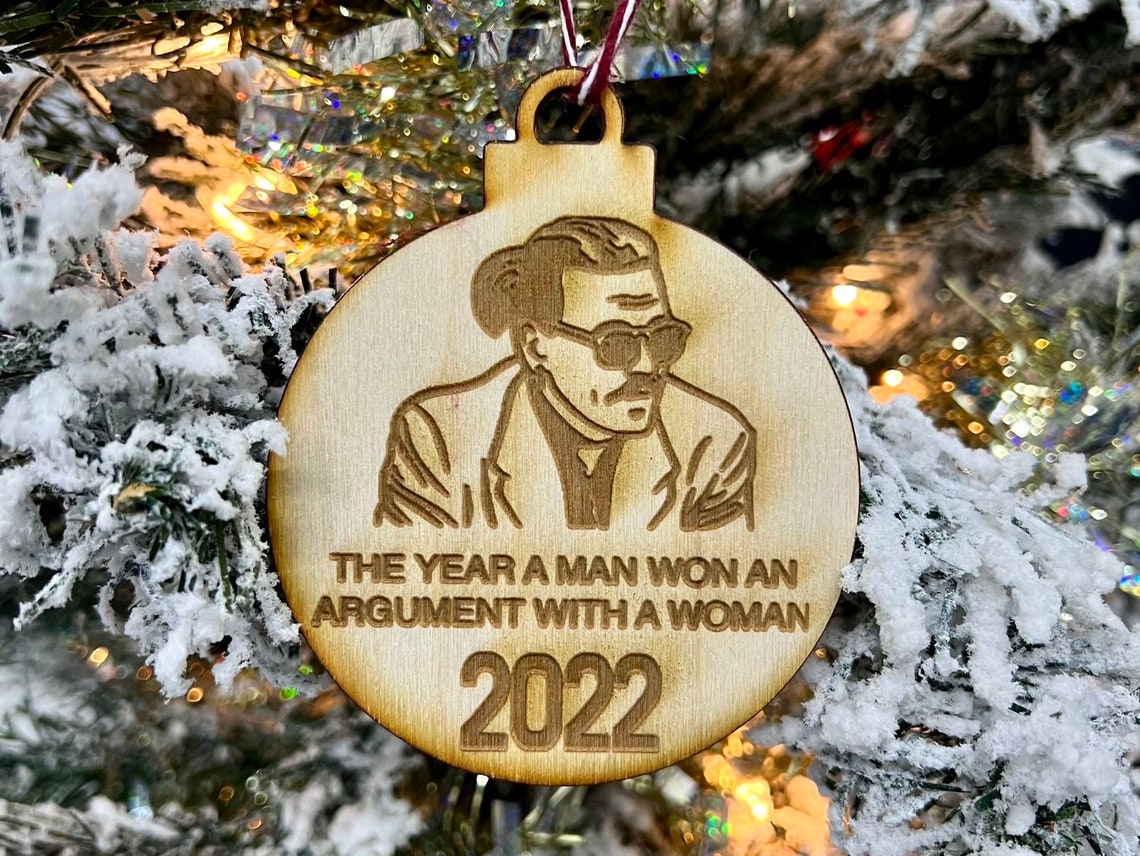 The Year A Man Won An Argument With A Woman (2022 ornament)
Women are always right. Everyone knows this. It's common knowledge and has saved many an argument.
But — BUT — this year a man won an argument. And it needs to be commemorated.
Memory Mints For Senior Moments
Any time my grandma would forget something, she would say she was having a "senior moment." When I was young, I didn't get it. Now I think it's a funny saying. So I think these Memory Mints For Senior Moments are so funny, especially because they're "extra strong."
They're even funnier if you give them to a woman who's not really that old. That's part of the gag.
Funny Adult Note Pads
These Funny Adult Note Pads are really cute because they're sort of adult-y but in a G-rated way. The pack comes with four notepads: Bunch of Crock, Pain in the (donkey) things to do, Foul language, and Bull sheet.
You get all four in a single order, so if you need gag gifts for coworkers, you could split up the pack and give one to each person. The note pads have 50 pages, so each one is good enough on its own as a small gift.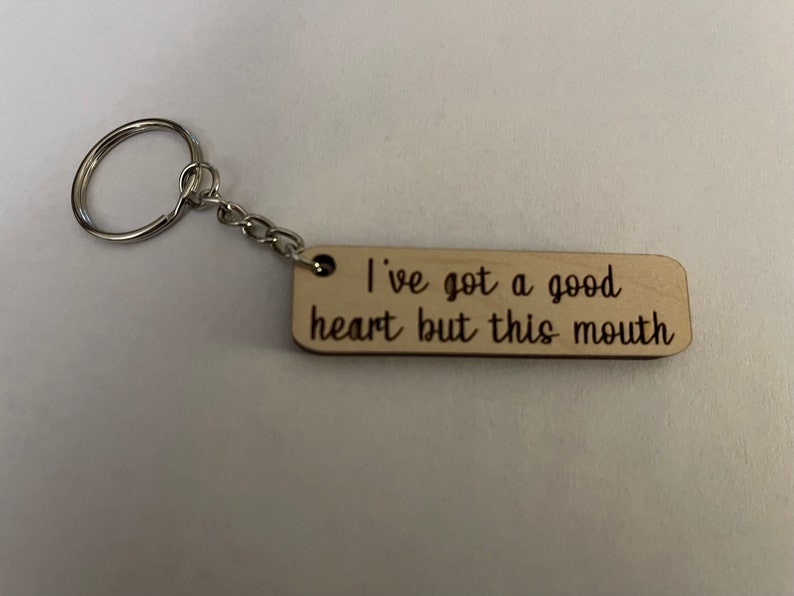 I've Got A Good Heart But This Mouth Keychain
We all have that friend who is really nice but her mouth gets her in trouble. She means well, but those words and sarcastic comments just slip out. So this I've Got A Good Heart But This Mouth Keychain is perfect for her.
If you like the concept but not the wording, it's okay. Just click the link below and you can see seven other options, like "I'd rather be in pajamas" and "I might be wrong but I really doubt it."
"My Last Nerve Oh Look … It's On Fire" Candle
People get on your last nerve. all. the. time. And you just have to smile through the day. But then, you get home and can relax.
Your gift recipient can relax even better with this super funny "My Last Nerve Oh Look … It's On Fire" Candle. And actually, she can relax. The candle has lavender in it, which actually helps with relaxation. So this is a funny and useful gag gift.
Hanging Cat Hand Towel
If you're shopping for a cat lover, this Hanging Cat Hand Towel is a really good gag gift. It comes in 25 different cat versions, so you can definitely find one that matches your recipient's actual cat (or cats).
And, if you're looking for actual gifts, not gag gifts, check out our list of Gifts For Cat Lovers.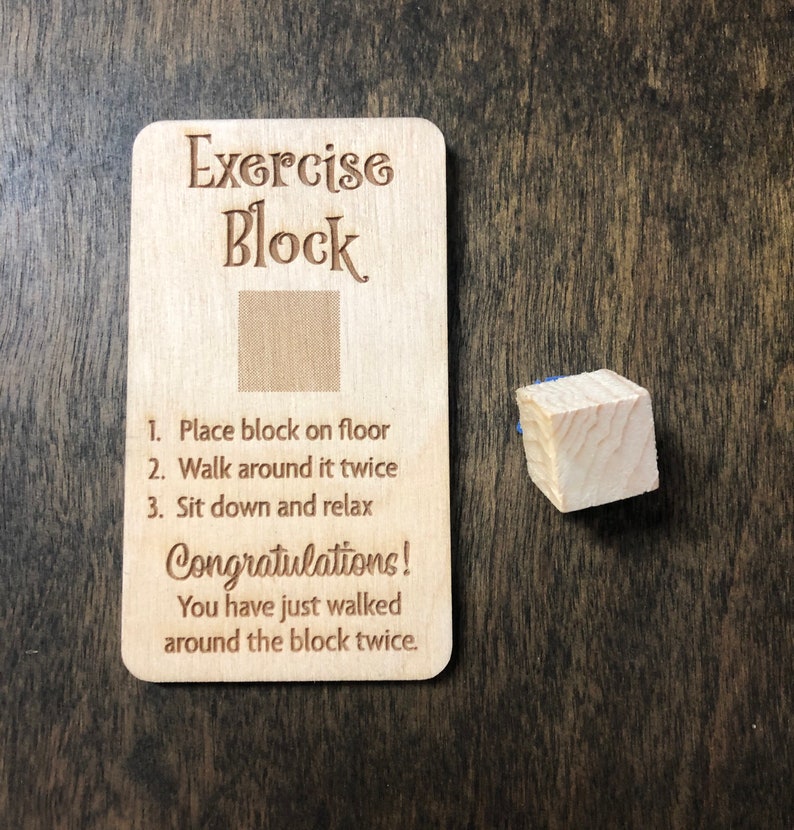 Exercise Block Cube Joke
I don't know why I'm laughing so hard at this Exercise Block Cube Joke, but I am. And I'm sure that your gift recipient will laugh too.
And isn't that exactly the goal of a gag gift? You just want to make your recipient laugh.
Don't Forget My Discount T-Shirt
We all have that one friend that's super frugal. It's me, hi, I'm the frugal friend, it's me.
If you're shopping for one, this Don't Forget My Discount t-shirt is a great gag gift. It comes in five colors and six sizes, so you can definitely find one that fits your friend's size and style.
Purchase Gag Gifts Online:
Of course, these aren't the only gag gifts online. They're just our favorites. There are more out there, like the "Happiness Is Being Married to An Italian" Decorative Wall Tile above.
Check out the gag gifts we found at the stores below:
Don't forget to check a store's minimum cart total to qualify for free shipping. Also, consider instore or curbside pickup to avoid shipping charges.
Gag Gifts For Him:
Need some gifts for men instead? Check out this list of the Top 15+ Gag Gift Ideas to shop for him.
Which of these Gag Gifts For Women is your favorite? Let us know in the comments.