If you're excited about baseball season, you'll LOVE these Easy Baseball Crafts. Make a foam finger, pencil holders, cookies, games, and more.
If you want more baseball-related ideas, you can find more in all our baseball posts.
I was born in Queens, New York, where the New York Mets play, so, of course, I'm a Mets fan. No other choices here. Even if I did want to waver and start supporting a team down here in the south, my nephew is named Shea (after the Mets' original field, Shea Stadium), so we're all Mets fans for life now.
If you're a fan of baseball, regardless of who you root for, you might want to put together a few easy baseball crafts.
As we add more baseball crafts to Drugstore Divas, we'll be sure to update this post. So definitely bookmark it and come back to see what we've added in the future.
Easy Baseball Crafts
Affiliate links are included in this post and Drugstore Divas may make a small commission if you use them.
DIY Baseball Pencil Holder
Upcycling an old soup or vegetable can into a baseball pencil holder is really easy, although a bit tedious.
Each of the laces on the baseball are cut out individually, so this baseball craft does require a bit of time and patience. But the result is absolutely worth it.
If you don't have that much patience, or you're making this with younger kids, you could go ahead and use a marker to make the laces instead. You won't get the 3D feel of this craft, but you will spare yourself the cramps from using scissors.
DIY Baseball-Themed Candy Jar Guessing Game
If you're throwing a baseball-themed party, you'll want to have baseball-themed games. And this DIY Baseball-Themed Candy Jar Guessing Game is perfect.
It's a really simple baseball craft because you're pretty much assembling most of it.
You do have to do a little bit of work, like making the baseball-shaped "guess how many" sign. But everything else is mostly printing and putting things together. So it's pretty easy overall.
And hen it all comes together, it looks great.
DIY Baseball Vendor Favor Stands
These DIY Baseball Vendor Favor Stands are the most difficult craft on this list, but they're so, so worth it if you're having a baseball-themed party.
You can set these favor stands up on a gift table at a baseball party, and it'll look great. But, even better, you can have someone hold this and walk the favors around from table to table. That way actually looks like the person is a baseball vendor. It's so cool and makes your effort completely worth it.
Just make sure the person yells, "Favors!" just like a stadium vendor yells out the name of his or her wares.
DIY Baseball-Shaped Utensil Holders
If you're having a baseball-themed party, or you're just gearing up for Opening Day, you need to make these DIY Baseball-Shaped Utensil Holders.
You can make them from empty toilet paper rolls or craft rolls. With those, a little patience, and some paint and scissors, you can make these cute and disposable utensil holders.
They'll add a lot of pizzazz to your party, and sort of double as décor, and then get thrown away when your party (or the game) is over. That way, you don't have a ton of clutter that you need to find a place for.
And next time you're watching a game, you can just make them again.
Homemade Chocolate Covered Oreo Baseballs
If you're looking for a dessert for a baseball party, a favor for a goody bag, or just something to munch on while you're watching your favorite team play, these Homemade Chocolate Covered Oreo Baseballs are it.
You use a mold for these, so it's actually a lot easier to make these chocolate covered Oreo cookies than it looks. But you don't have to tell anyone that. You can just tell them you worked for hours on these and they'll be impressed.
DIY Foam Finger
If you're rooting on your favorite baseball team, it's a lot of fun to do it while you're waving a DIY foam finger.
You can make this in whatever team colors you want.
This is a mini foam finger, that actually fits on your fingers. You can adapt this tutorial for a full-sized foam finger if you want one of those instead.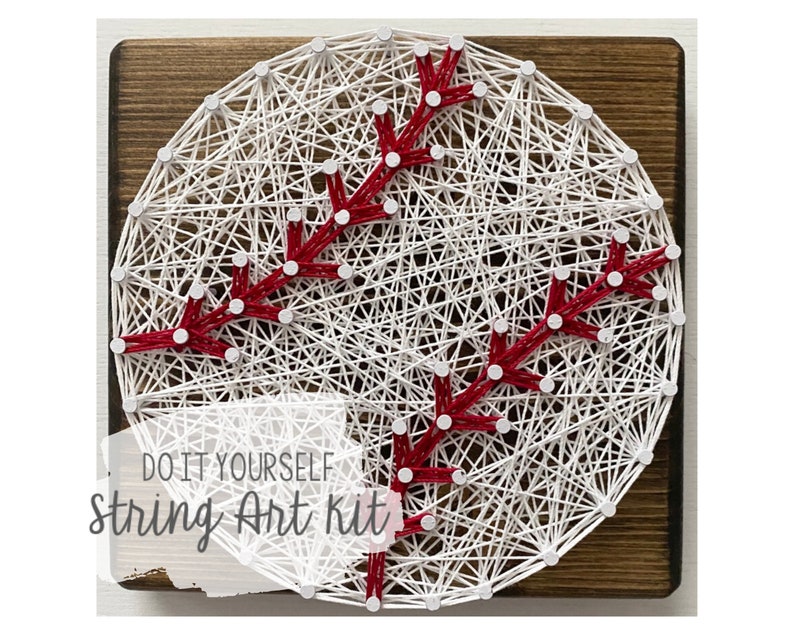 Purchase Baseball Crafts Online:
If you want to make some baseball crafts, but you don't want to run out and buy all the supplies, you can purchase baseball craft kits online instead.
We found a few great ones online and broke them into two lists (one for adults and one for kids) to make it easier for you to shop.
Purchase Baseball Crafts For Adults Online:
Purchase Baseball Crafts For Kids Online:
Which of these easy baseball crafts is your favorite? Let us know in the comments.