IRestore sponsored this 5 Tips To Help You Take Care Of Your Hair post.
It's February, which means everyone is thinking about love. You probably showed your significant other some love by taking her out to dinner and buying her flowers. But did you show any love to your hair?
If you're like me, you're using the iRestore Laser Hair Growth System because you are concerned about your hair and hair loss. But being concerned and actually doing something are two different things.
I have a few tips that I've learned to help you take care of your hair.
5 Tips To Help You Take Care Of Your Hair
1. Avoid pulling your hair back.
Personally, I was pulling my hair in half ponytails for a while to cover up the bald spot. I would make sure the ponytail was over that spot, and I wouldn't feel insecure about the back of my head. What I learned, though, was that constantly pulling your hair back can cause something called traction alopecia.
The condition comes from pulling your hair back. It can happen from pulling it back too often or too tightly. If you stop wearing your hair like that, it may reverse the damage. But if you continue it, you could permanently damage your hair follicles.
If you're in a job where you have to pull your hair back, take it down as soon as you can. And don't sleep with your hair pulled back.
2. Brush your hair when it's dry.
When you get out of the shower in the morning, you might want to brush your hair before you leave the bathroom. Avoid that. Do the rest of your bathroom routine, get dressed, make your coffee, and eat breakfast before brushing your hair.
Brushing your hair wet can cause breakage.
3. Let your hair air dry.
If you're getting impatient because you want to brush your hair, you might want to grab a blow dryer. I can understand why, but avoid it. The heat from the blow dryer can really damage your hair and scalp.
Instead, you should just let it air dry. That's a lot healthier.
4. Wash your hair every day.
Before starting with iRestore, I used to wash my hair every other day. I thought it was better. But the directions for iRestore suggest that you should wash your hair daily. Now, i use the iRestore Anti-Hair Loss shampoo daily, after I get home from work.
According to the iRestore website, "[l]eave in hair for two minutes to allow deep penetration and maximum absorption of nutrients." Your shampoo bottle may suggest something else, but if you're joining me on this iRestore journey, then you should be joining me in washing daily.
5. Trim your hair on a regular basis.
I let Lisa trim my hair every month. Some months, my hair can get really frizzy on the sides, so trimming it regularly keeps that at bay.
Trimming on a regular basis is really healthy for your hair too because it takes off any split ends and dead ends.
And, of course, one of the things that has helped me personally is the iRestore Laser Hair Growth System.
I've been using it for 11 months now in conjunction with the aforementioned shampoo, 3-in-1 Hair Growth Formula, and Anti-Hair Loss Serum. The last 11 months have been a journey, for sure. I've learned that hair growth happens in a cycle. It seems I'm in the telogen stage right now, in which hairs shed at normal levels. Since the hair growth cycle is different for everyone, different stages of the cycle may last longer/shorter from person to person (You can read more about the cycles here). My hair growth was really impressive in the January update, so that was great.
Most users will see improvement while using the system. If you want to try it, be sure to use the code DSD150 to save $150 off your purchase.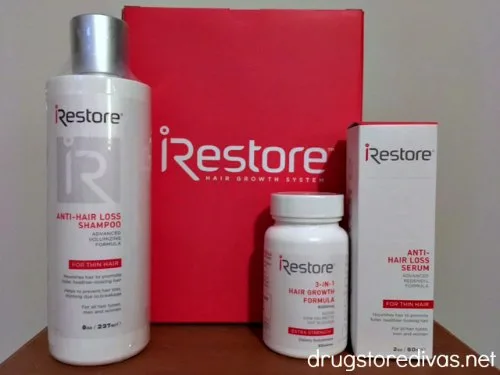 Next month is the last month of our current program with iRestore. I'll be posting a round up of all my posts and my hair growth photos, so be sure to come back for that post!