Honestly, kids will make forts out of anything. But, if you want a little more structure, check out these 10 Fun Build Your Own Fort Kits to get your forts started.
If you're buying this as a gift, be sure to check out all of our gift guides for more shopping help.
When I was growing up, building forts meant we would pile up all the couch pillows and build a fort. We didn't have fort toys. I'm actually kind of surprised that there are build your own fort toys. I mean, I guess not. It seems like kids have everything now.
I have a list of the ten build your own fort kits. Sure, your kids can still stack up pillows, but you have to admit: Some of these are built your own fort toys are so cool.
If you're buying a fort kit as a gift, and want some ideas of other gifts to buy, check out our Holiday Gift Guide filled with tons of shopping ideas (not just for the holidays).
10 Fun Build Your Own Fort Kits
Affiliate links are included in this post and Drugstore Divas may make a small commission if you use them.
Cabin Indoor Fort Building Kit
This 32-piece Indoor Fort Building Kit comes with 16 panels, 16 vertical connectors, and a roll of Velcro to hold it all together. Kids can easily put together the (essentially) carboard panels to create a fort to play in.
The reviews are really positive, saying kids as young as four have a really great time with these. Older kids enjoy the kit too, so this is definitely one toy that your kids can enjoy together.
Plus, it looks like a log cabin when it's done. How cool is that?
Cardboard Building Blocks
This set comes with 40 colored Cardboard Building Blocks that your kids can use to build their own play fort. These ones are matte finished, so they're not slippery like other similar-looking blocks (specifically the Melissa & Doug version of these blocks).
Each block does need to be assembled the first time you use it, so that is a little time consuming. If you're ordering these, make sure to do that while your child is asleep so that you can do it calmly and in quiet rather than with a toddler starring at you.
The blocks come in two sizes, so you can easily build things like houses and buildings by just stacking different sized blocks. And, according to reviews, even though they're lightweight, they will withstand a child standing on them.
Crazy Forts Kit
This Crazy Forts Kit is the perfect STEM toy for kids, without them even realizing they're using important skills to build their forts.
Each kit comes with 44 sticks and 25 balls that need to fit together in the correct way in order to actually build a fort that won't fall down.
The kit only comes with the pieces to build the structure of the fort itself. Even though you see fabric on the box itself, you'll actually need to provide your own bedsheets in order to complete the fort itself.
Creative Forts Glowing Building Set
If you like the kit above, but want something a little bit cooler, this Creative Fort Glowing Building Set is it. It's very similar to the Crazy Forts Kit in that it uses sticks and balls to make the skeleton of a fort.
But … this one glows in the dark. So cool.
First Natural Premium Wooden Fort Kit
This First Natural Premium Wooden Fort Kit is a great set to use to build a fort. It comes with 76 wooden pieces (dowels and connectors).
The wooden dowels fit into the connectors easily (well, most of the time; some reviews say they don't fit great). And the fort stays sturdy without swaying, which could happen with the plastic ones.
It is pretty fragile, though, so you can't throw a bedsheet on top like you can with the plastic ones, but this one is more eco-friendly. So, use all those notes to decide which is better for you.
Playhouse Sand Castle
If your kids are more into the décor of the fort rather than the design of it, something like this Playhouse Sand Castle is a great fort kit. It comes ready-made (save for a couple folds), and then it's playtime.
But, before your kids fold and play, they get to use the entire fort like a coloring book. There are actually a couple versions of this with different designs, so you can find one that is fun for your kids to color.
Make-A-Fort Explorer Kit
If your kid loves making forts out of boxes, they'll love this Make-A-Fort Explorer Kit. It's basically pieces of boxes that go together to make a fort.
These are easier to work with than the ball and stick ones, so your child has a better chance of playing with this by themselves than asking you to basically build the fort.
This one says if you have multiple kids, you should purchase multiple packs (one per kid). It sounds like a lot, but the reviews say this is absolutely worth the cost.
Building Block Stickers for Cardboard Boxes
If you want to just use your own cardboard boxes to make a fort, but those boxes just look so boring, these Building Block Stickers for Cardboard Boxes can make a big difference.
It's basically sheets of contact paper, designed to look like bricks, that you affix onto your own cardboard boxes. Then, use those to build your forts.
Fort Boards Fort Building Kit
This Fort Boards Fort Building Kit is really different than the other fort kits on this list because of the shape, type, and look of the boards.
The kit comes with 90 pieces (44 8- x 8-inch boards and 46 connectors). These boards are really durable and hold up well, especially compared to the cardboard options in many fort kits.
The example images show the coolest things made from this kit that aren't just forts, like an octopus and car, so your kids can really use their imaginations with this one.
Straw Constructor Building Toy
This Straw Constructor Building Toy a fun building toy, where you can build more than just forts. You can create a ton of handheld toys using the straws and connectors. And, of course, you can build forts too.
The set comes with 300 pieces, including both the straws and connectors. One of the reviews mentions that the child wishes there were more straws than connectors, so ordering more than one kit might make playtime more fun for your kids.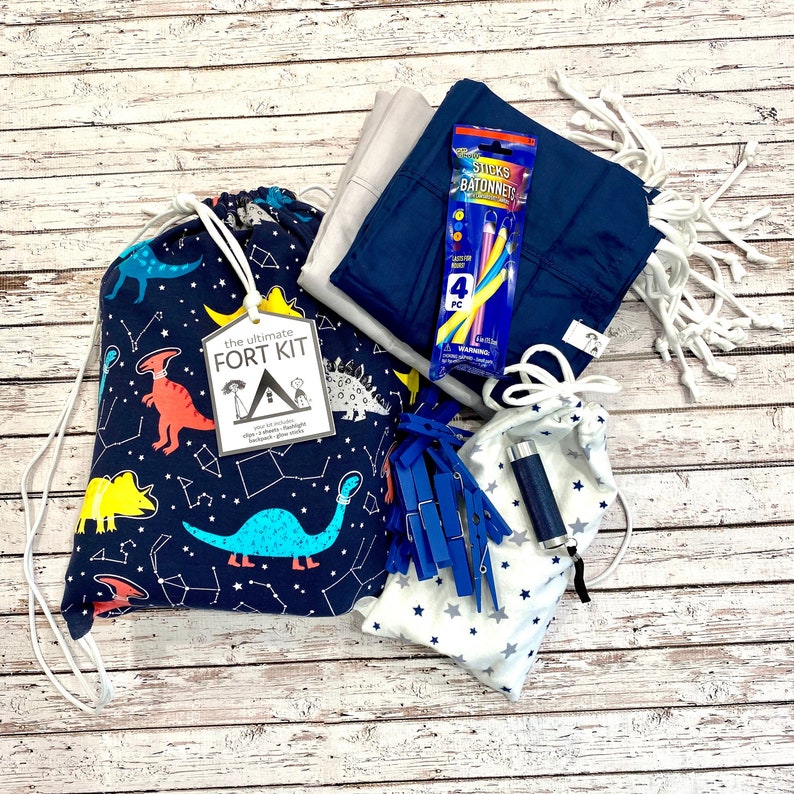 Purchase Fort Kits Online:
These aren't all the build your own fort kits online, just the ones we thought were best. We had to leave some out, like the Dinosaur Fort Kit above. For more ideas, check out the following online stores:
Be sure to check a store's minimum cart total to qualify for free shipping. Also, consider curbside or instore pickup, if available, to avoid shipping charges.
Which of these 10 Fun Build Your Own Fort Toys is your favorite? Let us know in the comments.