This Long Hairstyles To Cover Your Bald Spot post is sponsored by iRestore.
When I met Lisa, I had recently shaved my head as a donation to St. Baldrick's. The St. Baldrick's Foundation hosts head shaving events to raise money for and awareness of childhood cancers. You can accept donations on the Foundation's behalf, then shave your head, and donate that money.
So I shaved my head for the event, then met Lisa a little bit later. She didn't know me with my long locks.
For our wedding, she asked me to shave my head and I did. Happy wife, happy life.
She was showing a photo to our friend of me pictured hugging the priest on our wedding day, and all I could think was that our friend would be looking at the back of my head. I was wondering if she would notice my bald spot.
She didn't say anything, but it got stuck in my head. So I started growing my hair out again. Part of that was so I could feel like myself, and part of it was because I wanted to cover my bald spot.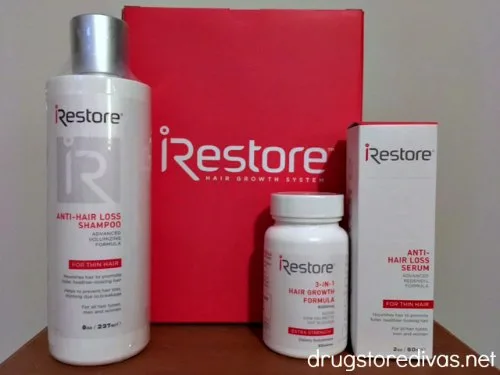 I have been using the iRestore Laser Hair Growth System (including the Hair Growth Shampoo, 3-in-1 Hair Growth Formula, and Hair Growth Serum) since March, but I still have a bald spot. It is starting to get better, but it is still there. If you started the process with me and you still have your bald spot — and you also still want to keep long hair — I have three hairstyle suggestions for you.
Let's note, though, that these hairstyles are good for occasions when you're going out and are styles to be used infrequently. When you're at home or somewhere relaxed, we — along with iRestore — suggest leaving your hair down so your hair follicles can breathe.
Frequently wearing these hairstyles may actually lead to traction alopecia, which is alopecia formed by constant pulling on your hair from styles like ponytails. This is also something that can happen if you constantly wear baseball games. Wearing one to a game to root on your favorite team is fine, but wearing one often can rub and smother hair follicles and accelerate hair loss.
So now, with that being said, if you have an occasion like a wedding, these hairstyles will be good for then.
Long Hairstyles To Cover Your Bald Spot
Half Up, Half Down.
This has been my choice hairstyle this summer.
Gather two-thirds of your hair. Pull the hair from the center of your head and the sides, then grab it where your bald spot is.
Make it into a ponytail over your bald spot, then secure it with a hair tie or clip. Since all your hair is gathered right on top of your bald spot, no one will be able to see it from behind.
The Man Bun.
I hate to use the term the "man bun", but that is what it is called.
Most of the man buns are on the very top of your head. If your hair is long enough to come up from the bottom and get into a high bun, that hair will cover your bald spot. If your hair isn't long enough yet, make your bun lower on your head so it sits over your bald spot.
To make sure you cover your bald spot entirely, pull the hair from the center of your head back, then from the sides, then up from the back.
High ponytail.
If you are feeling risky, you can go with a high ponytail over your bald spot.
I wouldn't recommend a low ponytail because you will be able to see the bald spot still. If you make the ponytail over the bald spot, you will be fine.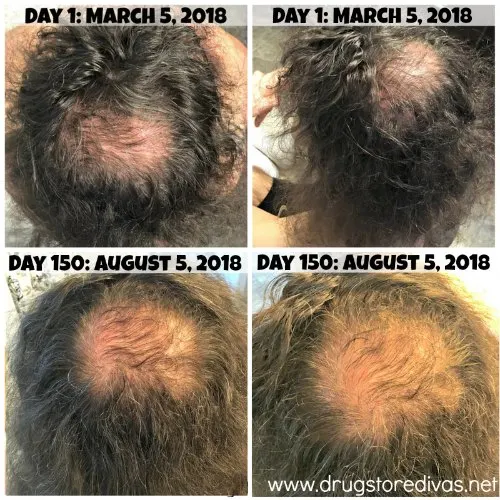 I'm talking about the bald spot still because mine is still there. Right now, I am seeing more hair loss due to shedding. This month, it does seem that the hair at the ends of the bald spot are fuller and less wispy. That is a good sign.
The hair in the middle seems to be getting darker too, so that is good.
This is my fifth month using iRestore, and results often take six to nine months, so I'm not in a rush. But when I do get rid of my bald spot, I'm bringing back my afro! Until then, I'll be using one of the three hairstyles in this post.
Now is a great time to start using the iRestore Laser Hair System. We have a special offer for Drugstore Divas readers. Use the code DSD150 to get $150 off your iRestore Laser System purchase HERE.
And, if you're not satisfied, there's a money back guarantee. For the Hair Care Line products (Hair Growth Shampoo, 3-in-1 Hair Growth Formula, and Hair Growth Serum), there is a 90-day money back guarantee if you purchase the 3- or 6-month supply. For the laser helmet, there is a 6-month money back guarantee. If your results aren't visible or satisfactory, you can return it. For more, check out the iRestore return policy.