So, let me put this out there: cleaning your dishwasher is a thing. It's something you are supposed to do. I know, I know. It's sort of news to me too. When we were in the apartment, I never cleaned our dishwasher. It cleaned our dishes and I assumed that meant it cleaned itself too. But you know what they say when you assume … you're usually wrong. So yes, I was wrong about the dishwasher. It never occurred to me at the apartment, but in the house, well, I think we have harder water here. You can see build up on the bottom of the dishwasher like we never saw in the apartment, so cleaning was needed. Is needed. You have to do it regularly.
Sigh. Just one more thing for the to do list, right?
Actually, cleaning the dishwasher is really easy. It's three steps. It takes a bit of time (which means you need to hand wash your dishes for a few days), but you only have to do it once every three or so months, so no big deal.
How To Clean A Dishwasher In Three Steps
It's three steps. Just three. And you use items that you probably already have in your home.
Step 1: Clean the filter.
Remove the filter (at the bottom of the dishwasher) and clean it. I wash it with dish soap, then rinse it with hot water. This way, I'm sure to clean the outside and inside of the filter. The inside is where the gunk really builds up, so you want to make sure you clean it. If you're feeling lazy, you could soak your filter in hot, soapy water instead, but I feel like actually cleaning it by hand cleans it a little better.
Step 2: Wash with vinegar.
Pour one cup of white vinegar into a dishwasher-safe bowl and place that bowl in the top rack. Run a dishwasher cycle. Make sure the settings are on high temperature and sanitizing wash. Ours will only run these settings on a normal wash, not on a one hour cycle. Let it sit overnight.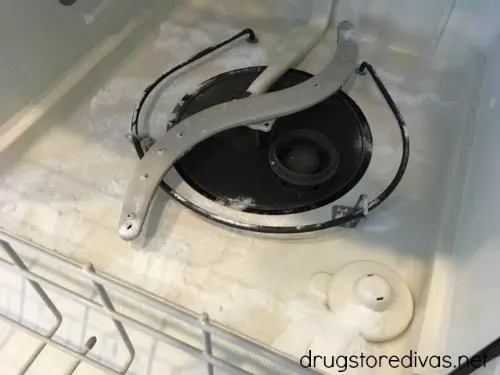 Step 3:Wash with baking soda.
Sprinkle one cup of baking soda in the bottom of the dishwasher. Run it again on the same cycle: high temperature, sanitizing wash. Again, let it sit overnight.
That's it. It's a lot of waiting, but there's not really much to it.
Want more cleaning hacks?
Power Clean Your Bathroom In Only 10 Minutes