If you know an essential oiler, check out this list of the Top 15 Gifts For Essential Oil Lovers. There are diffusers, jewelry, and more.
For more gift help, check out all of our gift guides.
We have a box of essential oils that we break out from time to time. Some we use in crafts and some we use to make the house smell nice.
We actually got a kit a while back where we had recipes to make things like beach hair spray. Pete loved the way it made his hair feel, so essential oils are definitely for everyone.
If you have an essential oiler in your life, or have a friend who you know would love them, this list of gifts for essential oil lovers is for you.
We put together a list of the top 15 gift ideas for essential oilers. You'll love these oily gift ideas. There are some for the home, the car, and on the go.
Top 15 Gifts For Essential Oil Lovers
Affiliate links are included in this post and Drugstore Divas may make a small commission if you use them.
Guru Nanda Six Pack Essential Oil Set
If your friend is just getting started using essential oils, a starter kit is a great help. And this
Guru Nanda Six Pack Essential Oil Sets perfect. It comes with the following oils: Lavender, Peppermint, Eucalyptus, Orange, Lemongrass, and Cedarwood.
Lavender is my favorite and we use peppermint the most, so this is definitely a starter set we like.
Aera Smart Diffuser
Diffusers are an amazing way to make your home smell wonderful. Plus, you can diffuse a specific combination of oils to help you sleep, focus, relax, etc.
What I love about this Aera Smart Diffuser is that you can control it over WiFi, it connects with your Alexa, and you can set it at certain intervals. So you can be coming home from work, turn it on, and your home will have the perfect welcoming vibe when you walk through the door.
Aera also has the Mini Diffuser, which is a little less, and is missing smart capabilities but still works great.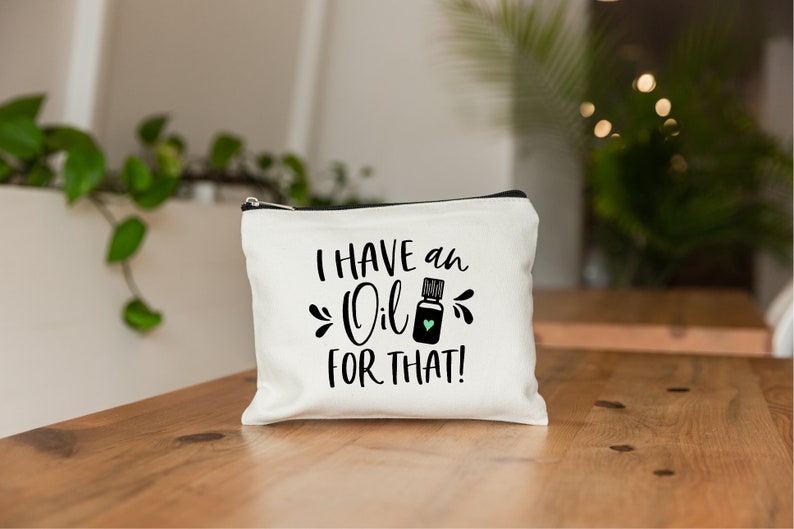 "I Have An Oil For That" Zipper Pouch
When the iPhone first came out, all the commercials were saying, "There's an app for that." And I wanted the phone so badly because there was an app for everything.
I remember the level app and wanting the phone for that, even though I had absolutely no use for a level. So I didn't get the iPhone until 4 was out. And I still don't have the level app. But I do still appreciate the humor in this "I Have An Oil For That" Zipper Pouch, and your recipient will too.
Essential Oil Diffuser Necklace
How pretty is this Essential Oil Diffuser Necklace? I absolutely love it.
Just put a drop of your favorite essential oil on to the felt pad, put that in the necklace's charm, and you can take your favorite oil with you on the go.
You'll be able to smell it all day long, since the pendant isn't too far below your nose. Your recipient will know that, but everyone else will just think it's a necklace.
Essential Oil Women's Watch
If a necklace isn't your recipient's thing, I have an alternative for you: an Essential Oil Women's Watch.
It operates the same way as the necklace above. You put drops of oil on the foam pad, then insert it into the watch. But this watch is more about function than beauty, even though it is really pretty. It also tells time.
Oil + Glass Recipe Book
Even experienced essential oilers can get inspiration from the Oil + Glass Recipe Book. It comes with 164 pages of essential oil DIY recipes, education and safety tips, step-by-step directions, and more.
Plus, it's a beautiful hardcover spiral bound book that would look great sitting on a shelf.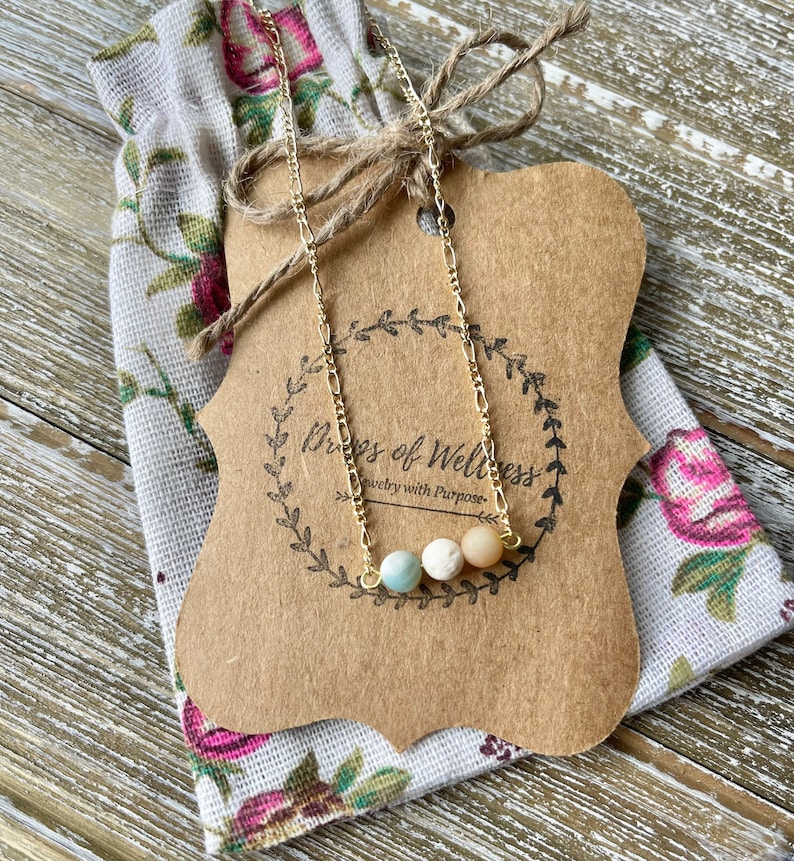 Amazonite & Lava Stone Essential Oil Diffuser Necklace
Sorry not sorry, but I had to add another necklace to the list because this Amazonite & Lava Stone Essential Oil Diffuser Necklace is beautiful. I can't get over it. I want to order it for myself and just wear it even without oils.
When it's on, the stones are small and delicate, so it's definitely a piece that your recipient can wear daily as opposed to a statement piece that's worn seldomly.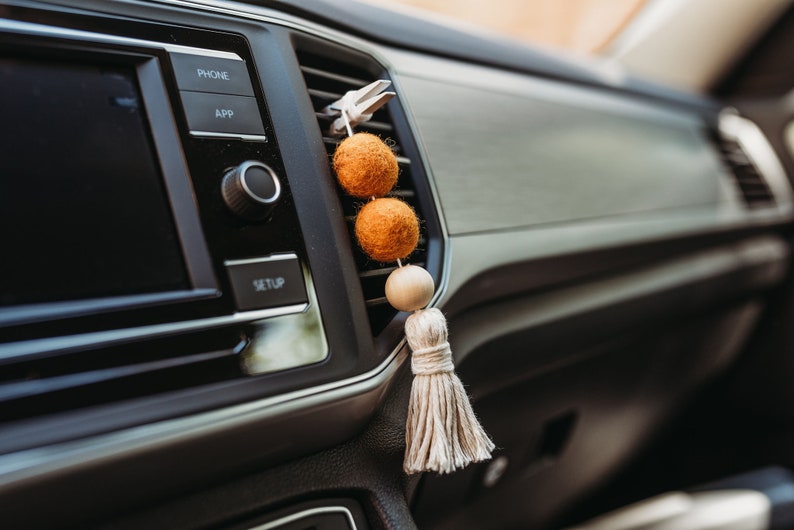 Car Essential Oil Diffuser
I used to spend so much time in my car when I worked for newspapers. So I would have loved this Car Essential Oil Diffuser then.
It hangs of the car's vent with a small clothespin (that's included) and keeps the car smelling great all day long.
There are six color choices to choose from, so you can match it to your recipient's car or car's interior so it blends right in.
Essential Oil Carrying Case
If your gift recipient loves traveling, this Essential Oil Carrying Case is perfect. The case is padded and has pockets so it's a great way to take oils on the go without worrying about them breaking.
Plus, it reminds me so much of a Caboodle from back in the day, so that's just fun.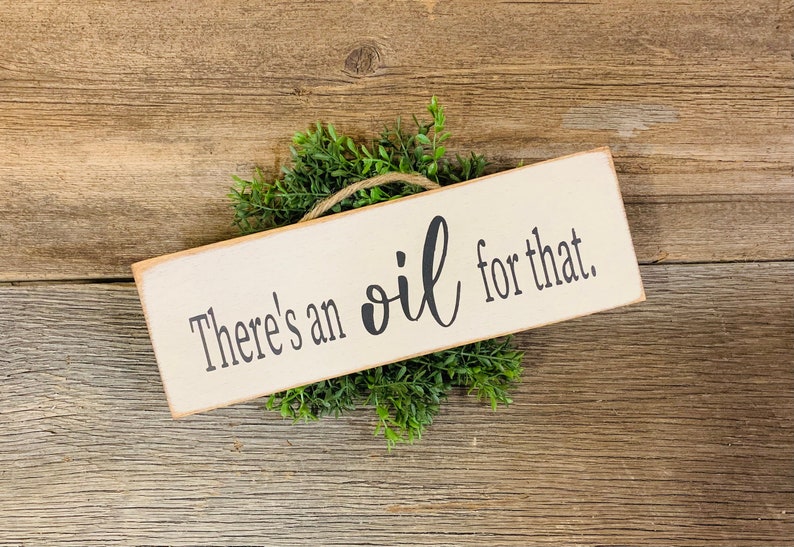 "There's an oil for that." sign
If your friend has a spot where she keeps all of her essential oils, this "There's an oil for that." sign is perfect to hang in that area.
The handmade sign is 12- x 4-inches, so it won't take up too much wall space, but it'll take up just enough. Sort of like her oil collection.
Wooden Essential Oil Box
I love this Wooden Essential Oil Box. It fits with our decor so well. So if I was your gift recipient, I would pick this one.
This box is so clean and crisp looking on the counter. Then, your recipient can just open it, grab an oil, and close it. No mess all over the counter.
It comes with stickers too, so your recipient can label the tops of the bottles, meaning she doesn't have to pull each one out individually when she's looking for a certain one.
Acorn-Shaped Essential Oil Car Diffuser
How cute is this Acorn-Shaped Essential Oil Car Diffuser?
It can hang from the car's rear view mirror and diffuse. Plus, it's wooden, so it has a really nice natural feel to it.
You unscrew the top and a full 5 cc bottle can fit inside. Take its top off and the essential oil diffuses through the holes in the top of the acorn. Brilliant.
Metal Essential Oil Diffuser
This Metal Essential Oil Diffuser is stunning. This exact one has a flamingo image on it, but there are tree and hummingbird designs as well.
The diffuser has seven colors that your gift recipient can choose from, assuring this fits her décor. It has a USB plug, so it doesn't need any batteries to work, which is nice.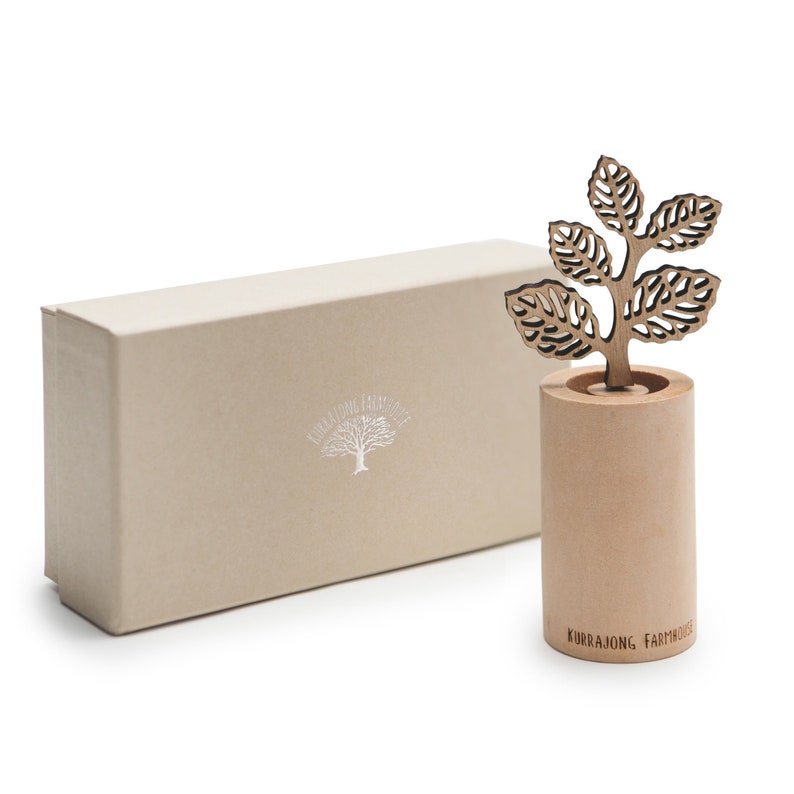 Mini Wood Diffuser
This Mini Wood Diffuser is perfect for someone who has a little space on their desk or nightstand and want to put a diffuser there. It's six-inches high, which makes it easy to fit anywhere.
Your recipient will put an oil bottle in the bottom of the handmade diffuser and the oil travels up through the leaves to diffuse the scent.
Natural Lava Stone Diffuser
This cute Natural Lava Stone Diffuser is a pretty way to diffuse some oil in a room. It will be stronger in the area where the diffuser is place, so be sure to tell your gift recipient that.
It comes with a lid, and when that's closed, the scent doesn't escape. So that's perfect for somewhere like a home office where your gift recipient isn't all day long.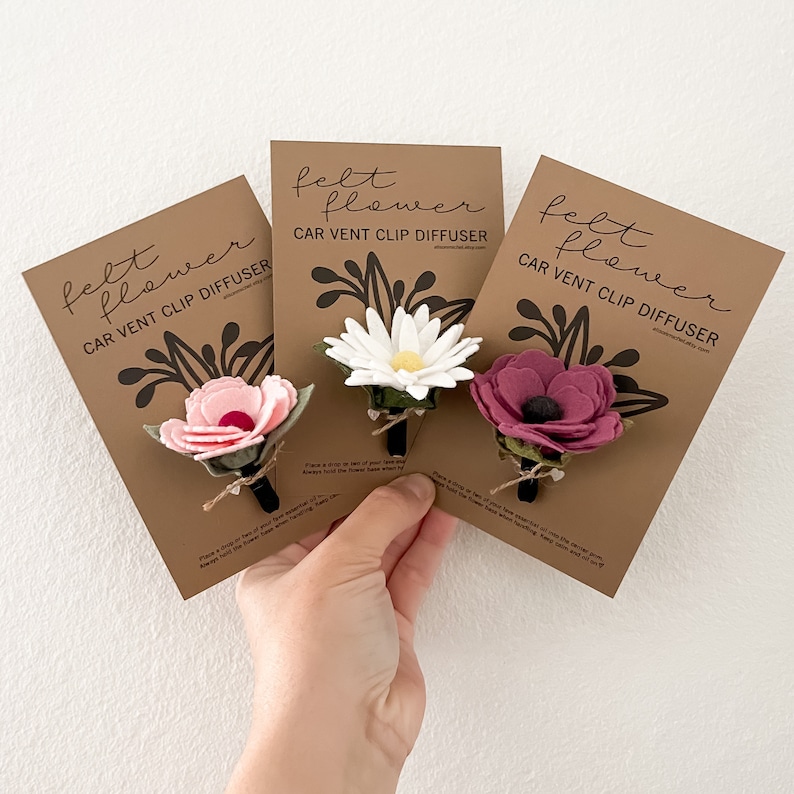 Purchase Gifts For Essential Oil Fans Online:
These aren't all of the essential oil gift ideas online, just our favorites. We had to leave some out, like the Felt Flower Car Vent Oil Diffuser above.
So, for more gift ideas, check out the following stores below:
Also, be mindful of a store's minimum cart total to qualify for free shipping. And consider instore or curbside pickup to avoid shipping charges.
Which of these gifts for essential oil lovers is your favorite? Let us know in the comments.