Tide sponsored this DIY Laundry Room Wall Art post.
I'm writing this as my laundry is going in the background. Seriously. The hum of the dryer is the beat for my Spotify playlist.
This is real life.
And our real life consists of music and laundry. There's always laundry. I have a schedule so I don't get overwhelmed by it. Monday is clothes, Tuesday is towels, and Friday is miscellaneous (sheets, curtains, that sort of stuff).
Laundry is inevitable. That's how the joke goes, right? No matter who leaves you in your life, laundry will always be there. Our home too. But music, laughing, love, those things are always there too.
And coupons.
We always have coupons, always clip coupons, always use coupons. But you know that if you've been around Drugstore Divas these last 10 years. Speaking of coupons, though, right now, you can print a coupon for $3 off any Tide PODS (excludes Tide Simply PODS), valid at any retailer, from the Brandsaver website.
All that was the inspiration for this DIY Laundry Room Wall Art.
DIY Laundry Room Wall Art
Affiliate links are included in this sponsored post and Drugstore Divas may make a small commission if you use them.
What You'll Need:
Free printable (see the end of this post)
8×10 frame
Hot glue gun
Ribbon
Paint
Paint brush
Scissors
What You'll Do:
You can pick up a frame for this and leave it at that. I wanted to customize mine a little bit more, so I bought a frame and then painted the frame the color I wanted. If you do paint it, let it dry completely before moving on.
You may want to paint multiple coats to make sure the color is deep enough. Just make sure to allow it to dry completely between coats.
Hot glue a piece of ribbon to the back of the frame.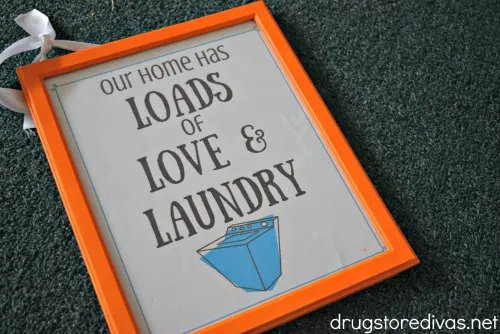 Print the free printable (below) and insert it into the frame.
Use the ends of the ribbon to tie up your laundry wall art.
Now, about that printable …
It's formatted to be printed on an 8.5×11 inch piece of paper so you can print it at home. It's created with a border, though, so you can buy an 8×10 inch frame and hang it with that.
To save it, just right click the image above and choose a folder on your computer to save it to. Then, print it when you're ready to make the wall art.
I picked up all the supplies, and, of course, I had to add Tide PODS to my cart as well. You can pick up everything at your local Walgreens.
I fell in love with Tide PODS when we were living in an apartment complex. We had to walk from our building to the center of the complex for the laundry room. Carrying a basket of laundry, plus a full bottle of detergent, was really heavy. So instead, I started buying Tide PODS. I could open the bag in our apartment, toss one of the Tide PODS on top of my laundry, and it was so much easier to carry.
Tide PODS have recently been upgraded with better stain and odor removal power. These new Tide PODS have a 4-in-1 technology — detergent, stain remover, color protector, and built-in pre-treaters. I always thought they were great before this, so I'm excited.
Because yes, I'm at an age where I get excited over better laundry products.
Have you tried the new Tide PODS? Leave us a comment letting us know what you think of them!