Beach bags, chairs, and a wet bathing suit bag are just some of the options on this list of Gifts For Beach Bums.
For all of our shopping guides, check out our list of gift guides.
When we moved from New York, we moved to the beach. And now, when we have company come to visit, everyone wants to go to the beach. We've accumulated quite a bit of beach gear. So, if you're shopping for a beach bum, we have the perfect list of gifts for beach bums.
But honestly, you don't even have to get this solely as gifts. You can pick these up just to add to your beach gear so you're prepared when you're heading out to the sandy shores.
If you're doing a lot of shopping, be sure to check out Drugstore Divas' Holiday Gift Guide. There are gifts for the holiday season, birthdays, and more.
10+ Gifts For Beach Bums
Affiliate links are included in this post and Drugstore Divas may make a small commission if you use them.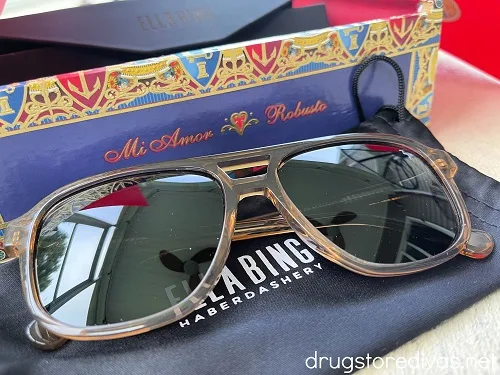 Sunglasses
Going to the beach without sunglasses is pure torture. It's impossible to see anything with the sun reflecting off the water. So sunglasses are a must.
If your beach loving friend goes to the beach a lot, a pair of sunglasses is a great idea. A pair for every car and purse is ideal.
Every Sea Shell Has A Story Decorative Box
Collecting seashells is one of the quintessential beach activities. When you head to the beach, you have to come home with a seashell or five.
But what do you do with them when you get home?
If you pick up this Every Sea Shell Has A Story Decorative Box for a friend, he or she can fill it with those seashells and display it as a reminder of previous beach trips. That's adorable.
Wet Bathing Suit Bag
One of my favorite things that I don't own is a Wet Bathing Suit Bag.
It's the perfect thing to bring to the beach. You can put your dry undergarments in it when you go to the beach, then change into them and put your wet bathing suit in the bag. It's so useful.
Starfish Couple in Swimsuits Christmas Ornament
If you know a pair of beach bums, they need this Starfish Couple in Swimsuits Christmas Ornament. It comes with a male and female starfish, completely dressed for the beach.
It's perfect for their tree. And a safer bet for something to buy in case your beach friends have everything they actually need for the beach.
Waterproof Bluetooth Speaker
What's a beach day without some music? For us, we always bring a Bluetooth speaker with us. Pete even takes one on our bike rides.
If you're heading to the beach, you want a Waterproof Bluetooth Speaker with you. Waterproof is the keyword here. If not, someone might come out of the ocean, drip all over your speaker, and ruin it.
Sand Proof Beach Blanket
If you've been to the beach — even once — you know what a pain the sand can be. We have blankets that we've used for picnics and the pool numerous times after their last beach trip, and they still have sand in them.
That's why a Sand Proof Beach Blanket is a great gift idea. Just shake out the sand and you're good to go. Plus, this one folds up into an accompanying bag, so it's easy to transport.
Mesh Beach Tote Bag with Detachable Beach Cooler
This Mesh Beach Tote Bag with Detachable Beach Cooler is great for the beach. You can put your beach gear up top and your snacks and drinks at the bottom.
It separates too, which means you can just use the mesh bag by itself.
Beach Cup Holder
If your beach chair doesn't have a cup holder, you usually have to put your drink in the sand. Which isn't ideal because you get a ton of sand on your bottle. And then you get it all over yourself.
A great alternative is to use a Beach Cup Holder.
You stick it in the sand and put your drink in it. I like this one a lot because it has a pocket that can hold other things like your phone or sunglasses.
Tommy Bahama Backpack Cooler Chair
We absolutely can't go to the beach without our Tommy Bahama Backpack Cooler Chair. We each have one, and we love them.
The best part is the chair has a backpack that we can put our beach gear in and the bottom of the back has a cooler so we can store our food and drinks. It also has straps so we can carry it like a backpack and have our hands free to carry other things.
Beach Tapestry Mandala Beach Blanket
How pretty is this Beach Tapestry Mandala Beach Blanket?
I love that it's round because it doesn't look like a typical beach blanket. It's 70-inches round, which is perfect for packing all your beach going friends on.
Just shake it out a lot when you're done using it. It's not sand proof like the blanket above, so you want to get rid of all the sand before you pack it up to go home.
Flip Flop Wall Ornament
If your beach loving friend lives at the beach, he or she probably has all the beach-related items a beach lover could need.
So instead of getting something to use at the beach, grab this Flip Flop Wall Ornament. It says, "Life is better at the beach". It's such a cute beach house gift idea and I'm sure your beach fan will love it.
Hello Sunshine Straw Hat
I love big, floppy straw hats for the beach. They're so great at keeping the sun away, and they're also really cute for the 'gram.
This Hello Sunshine Straw Hat has "Hello Sunshine" printed on in, and that's just amazing. Your beach bum will love it.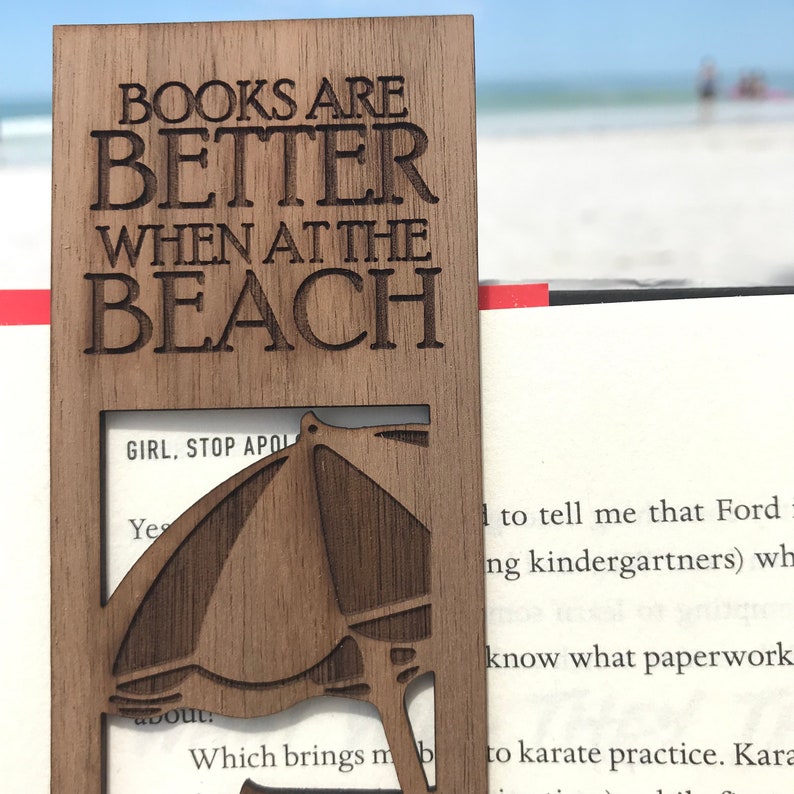 Purchase Gifts For Beach Lovers Online:
This list is filled with all our favorite gifts for beach lovers, but of course, there are more out there that couldn't fit on this list. Like the Wooden "Books are better when at the beach" Bookmark above.
So, to check out more options, check out the stores below:
Be mindful of a store's minimum cart total in order to qualify for free shipping. Also, consider instore or curbside pickup, where possible, to avoid shipping costs.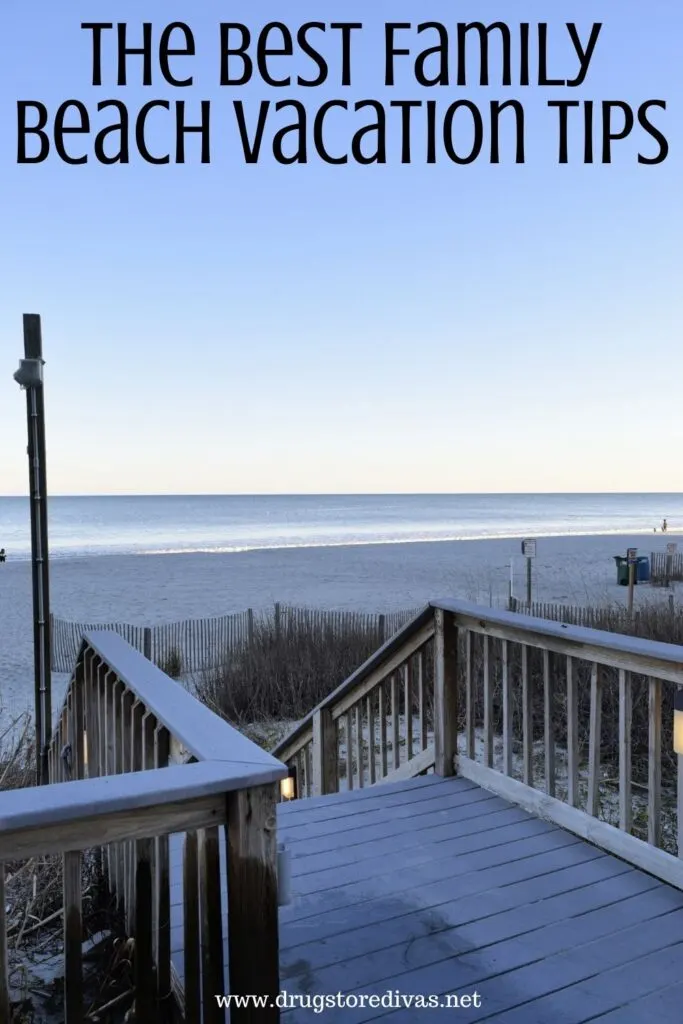 Beach Vacation Tips:
If this list has inspired you to plan a beach vacation so that you can use all these ideas, you're in luck. We have a list of The Best Family Beach Vacation Tips to help you plan that beach trip.
And, if you're looking for some beach locations, the ones below are our favorite:
And, when you do finally get ready for that trip, check out our list of What To Pack For A Beach Day With Kids to make sure you remember everything you need.
Which of these gifts for the beach lover is your favorite? Let us know in the comments.