Start the school year off by sending in one of these 10+ Back To School Gifts For Teachers for your child's new teacher. They'll be sure to appreciate it.
For more ideas, check out all of our gift guides.
It's back to school season, which means you know who your child's teacher is going to be this year. If you want to start the school year off a little special, check out this list of 20+ Back To School Gifts For Teachers.
Now, I know, some people aren't crafty or would just rather spend the last minutes of the summer outside rather than crafting.
No worries. I have you covered too.
This list is split into two sections. There are holiday gifts for teachers that you can buy (because, we know, that's easier) followed by holiday gifts for teachers that you can make.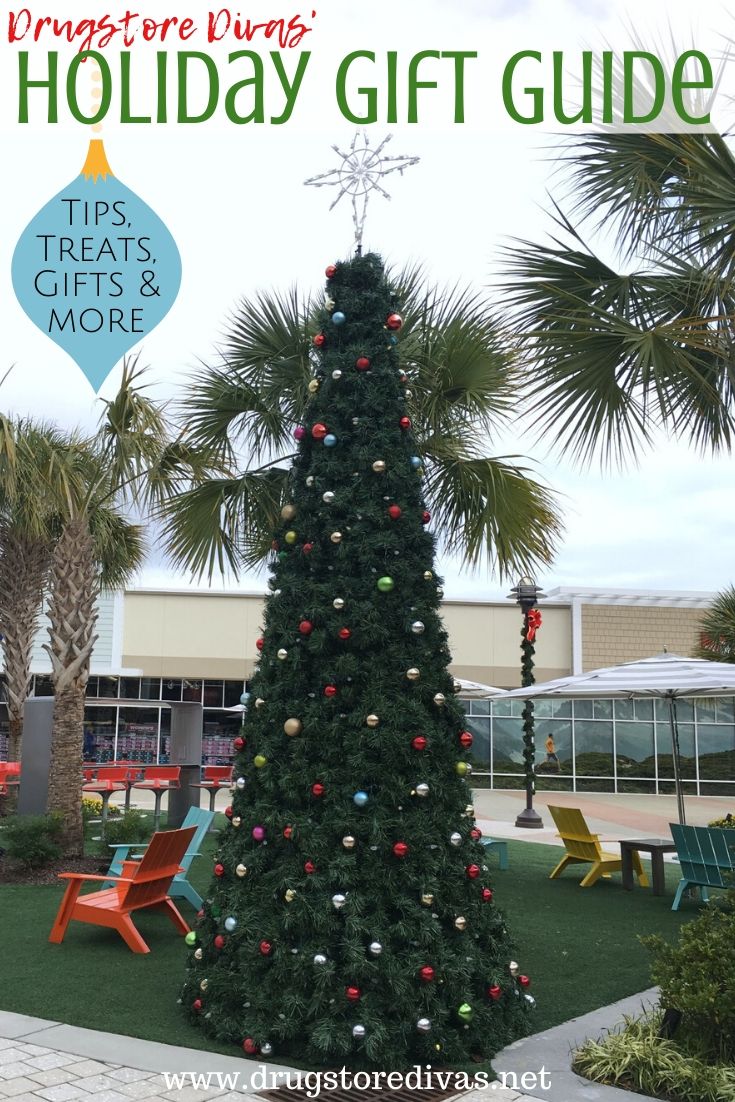 If you're looking for more shopping ideas, be sure to check out Drugstore Divas' Holiday Gift Guide for all of our shopping guides.
10+ Best Holiday Gifts For Teachers
Affiliate links are included in this post and Drugstore Divas may make a small commission if you use them.
Gifts For Teachers You Can Buy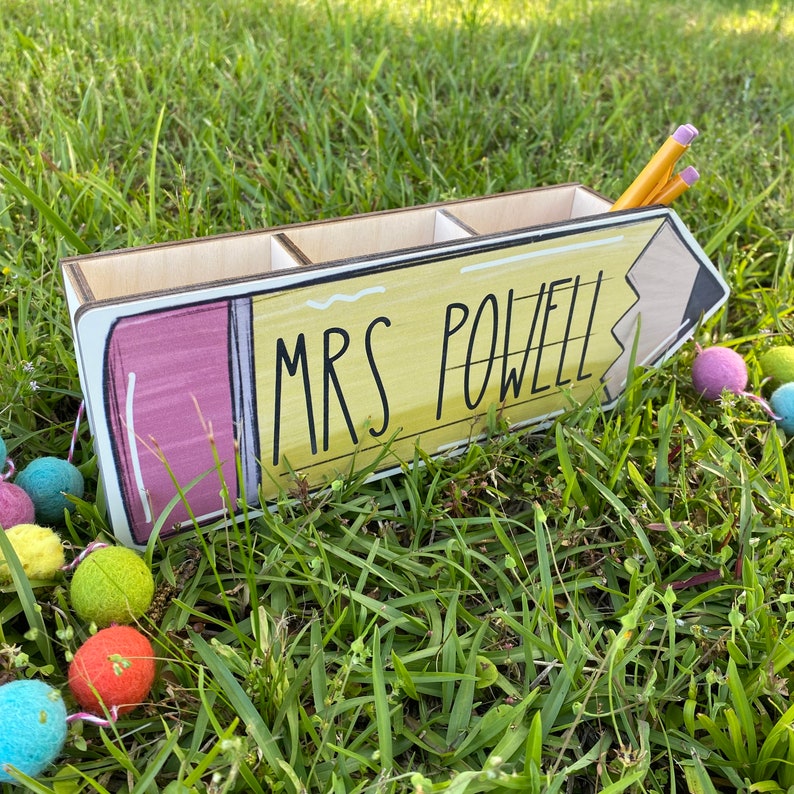 Personalized Teacher Pencil Holder
I'm in love with this Personalized Teacher Pencil Holder, so of course it had to kick off this list. It's a huge pencil that doubles as a name sign, which is really nice. It's large too, measuring just over 12-inches across, so it's super eye catching.
It has three sections so your child's teacher can easily separate writing utensils from scissors. And then the last section can be used for hidden treats because some days, a teacher just needs a little bit of chocolate to make it through the afternoon.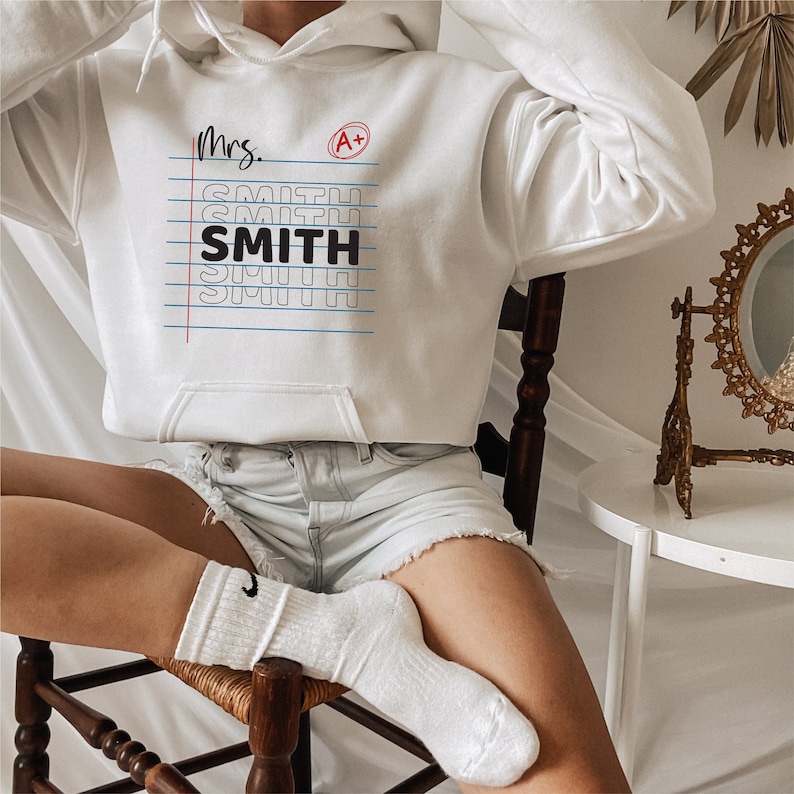 Notebook Paper Teacher Sweatshirt
This Notebook Paper Teacher Sweatshirt is an amazing sweatshirt. It's a cute design that can be personalized with the teacher's name.
Now, this is a back to school gift that you're probably going to give to your friend or family member who is a teacher, not your kid's teacher. It's actually super low priced (compared to plain sweatshirts, which are just so expensive right now), but it's a "big" gift to give for the start of the school year.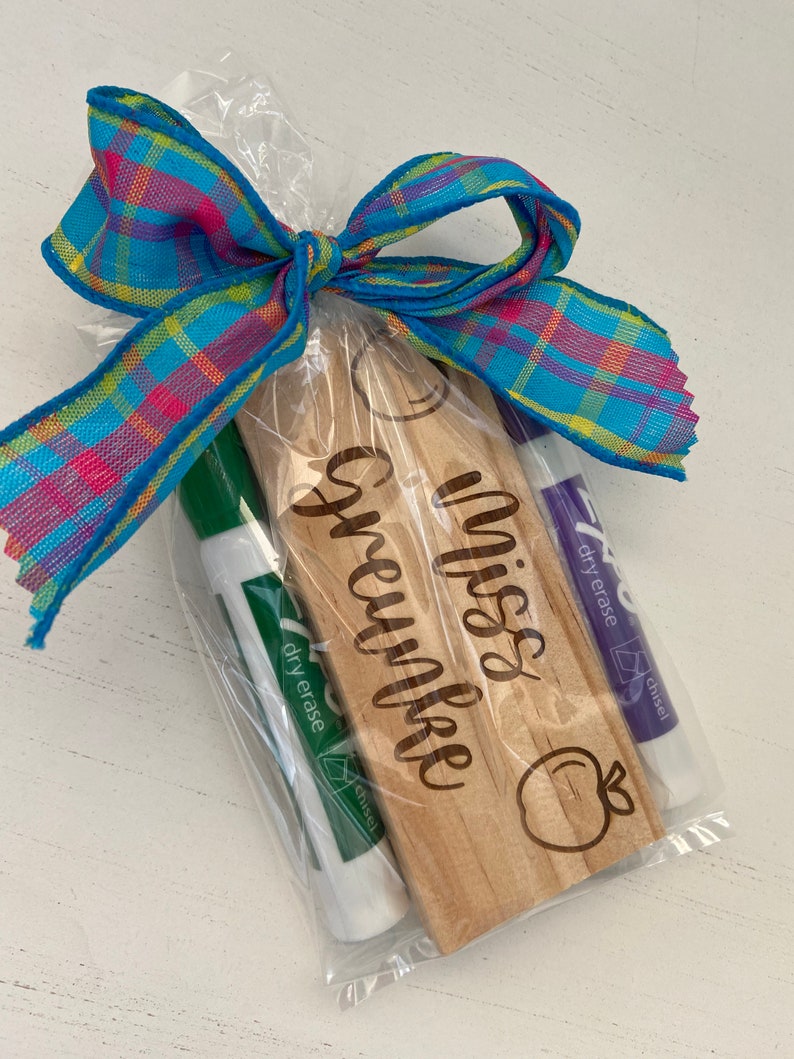 Personalized Whiteboard Eraser With Expo Markers
Chalkboards are out and whiteboards are in the classroom. Which means teachers don't need chalk; they need Expo markers. And sure, you can just give them a package and that's fine. But, if you want something that looks more like a gift, this Personalized Whiteboard Eraser With Expo Markers is perfect.
The name can be printed in print or cursive. You get to choose. You don't get to choose the color of the Expo markers, but don't worry. The teacher will appreciate any of them.
I'm A Teacher What's Your Superpower Wine Glass
I'm not saying your child is the reason your child's teacher may need wine. But. Your child's teacher may need wine.
So this I'm A Teacher What's Your Superpower Wine Glass is the perfect gift idea.
Teacher Survival Kit Cosmetics Bag
Some mornings are just crazy and hectic, no matter what job you have. You're running out the door without enough time to even run a brush through your hair, let alone put on makeup.
So pick up this Teacher Survival Kit Cosmetics Bag for your child's teacher. She can leave some makeup in it in her desk and on those crazy days, she'll know she can still "put her face on."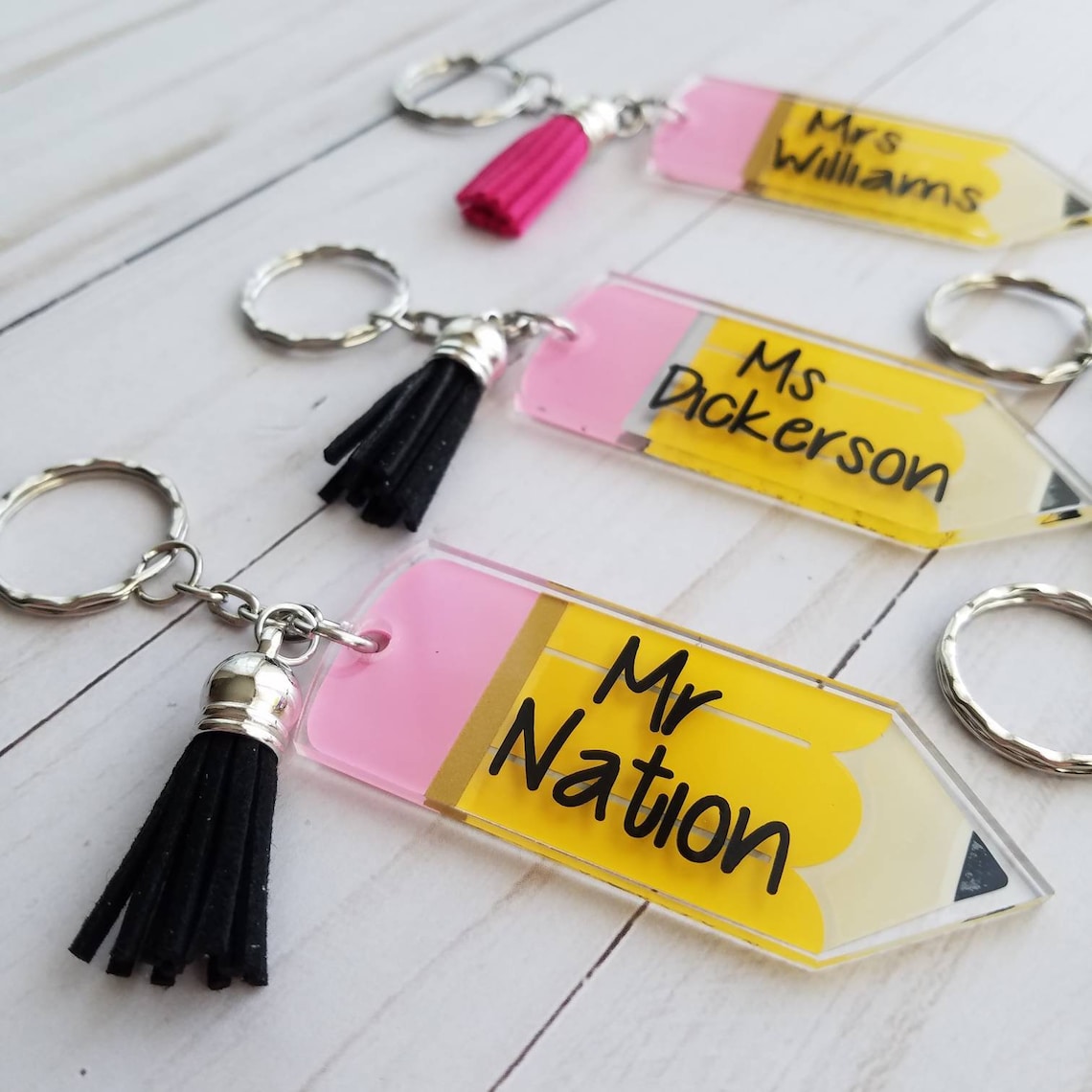 Personalized Acrylic Pencil Keychain
If you want a little gift to kick off the school year, this Personalized Acrylic Pencil Keychain is perfect. You can choose the color of the tassel that's on the keychain (I suggest picking either black or the school's color).
This is perfect for a teacher's keys, a hall pass he or she might have for the classroom, or more.
I Periodically Need Caffeine Tumbler
If you have a Chemistry teacher on your list (or even just a Science teacher), this I Periodically Need Caffeine travel mug is perfect.
The word "caffeine" is written using actual elements from the periodic table, but not the actual elements needed to make coffee.
My Favorite People Call Me Mrs. Shirt
What I love about this My Favorite People Call Me Mrs. Shirt is that it can be personalized to say your child's teacher's last name.
What's even better is that when you're submitting the personalization, you have to type in "Mrs." so you can change that to "Miss," "Ms.," or even "Mr."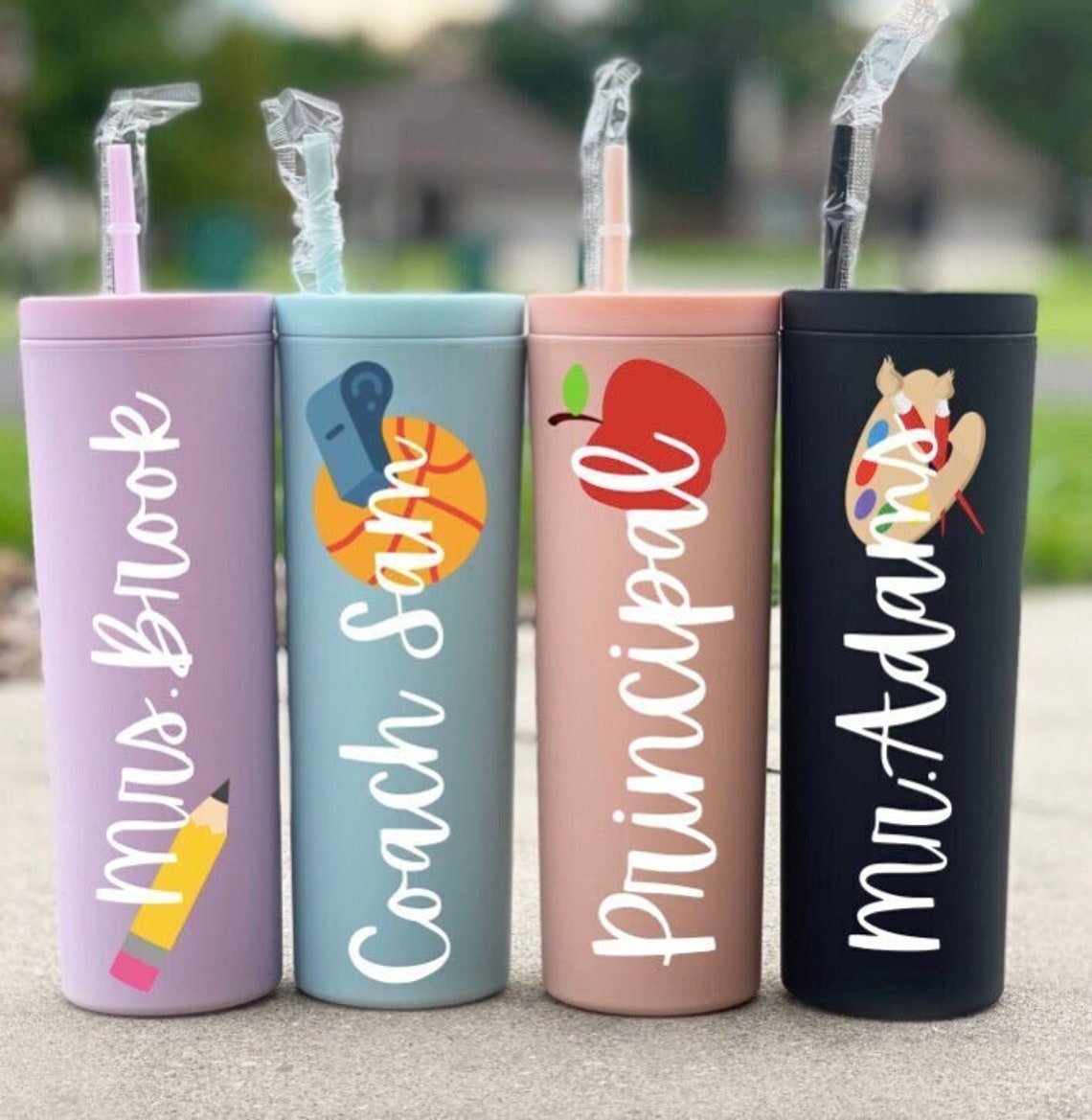 Personalized Teacher Tumblers
These Personalized Teacher Tumblers are really cute and can be personalized in two ways: with the teacher's name and with a design. You can choose from a pencil, apple, paint palette, whistle and ball, music note, and school bus. So if you're buying this for a teacher with a specialty, that can go right on the tumbler.
You can choose from 10 color options, including clear, and that gives it an added touch.
Back to School Plush Gnomes
Gnomes had a resurgence a couple years ago, proving to people that they're not just for the garden. They're for inside the home, on doormats, in displays, and in classrooms … in the case of these Back to School Plush Gnomes.
The handmade gnomes come as a pair, but of course, you can separate them if you need gifts for two teachers. Don't worry. We won't tell.
Gifts For Teachers You Can Make
These homemade gifts for teachers may not all be in-your-face teacher gifts (like the ones in the list above are), but they're all ideas of things that you can make that teachers would love.
DIY No. 2 Pencil Mason Jar Pencil Holder
If you have a mason jar and a little paint, you can make this pencil holder that looks like a No. 2 pencil. It's perfect for teachers to keep pencils, pens, and other writing utensils on their desk.
DIY Pasta Sauce Apple
Apples are a good teacher's gift, but pasta sauce is better. So combine those two things to make this DIY Pasta Sauce Apple gift.
We use Rita's Wooden Spoon marinara sauce because the smaller jar is the perfect size for this craft, but you can use any pasta sauce you want.
DIY Starbucks Coffee Cup Gift Card Holder
We have a lot of coffee gifts for teachers on this list (since we have established that teachers love coffee), so a coffee gift card would be a perfect gift idea. But just putting a gift card in an envelope is a little boring. So dress up that coffee card with our fun and simple DIY using a Starbucks cup.
Teacher Stationery
When Pete was still working in the school system, we actually made these stationery cards as a gift for the other teacher in his classroom. She loved that they were personalized and made specifically for her. Your child's teacher will love that too.
Manicure Gift Bag
Everyone needs a little self-care, and manicures are a great way to do that. But most people don't feel okay sitting in a salon for that long. Worry not. Just put together this fun manicure gift bag for a teacher and she can have self-care at home.
This is an especially good gift if you're a couponer because you probably have everything you need for this gift in your stockpile.
Broquet
Bouquets aren't just for your child's female teachers. You can surprise the male teachers with this broquet — a bouquet for bros. It's a coffee mug filled with candy and snacks. Once the snacks are done, the teacher can still use the mug. It's especially frugal if you plan ahead and pick up the snacks while they're on sale.
But First, Coffee Mug
With a little effort, you can make this But First, Coffee mug instead of buying a coffee mug for a teacher. The post comes with a free printable template for the popular But First, Coffee saying. But, if you have steady hands, you can write anything you want on the mug, like "Coffee, Teach, Repeat."
Candy Puns Gift
Teachers will love these candy puns. And you'll love how easy this gift really is. You just buy the candy, have your kids write out the tags, and then tie them to the boxes.
This was originally a birthday gift idea, but you can easily modify the candy puns for teachers. For the SweeTarts, just change the tag from "Hope you have a SWEET birthday" to "Hope you have a SWEET School Year." Easy.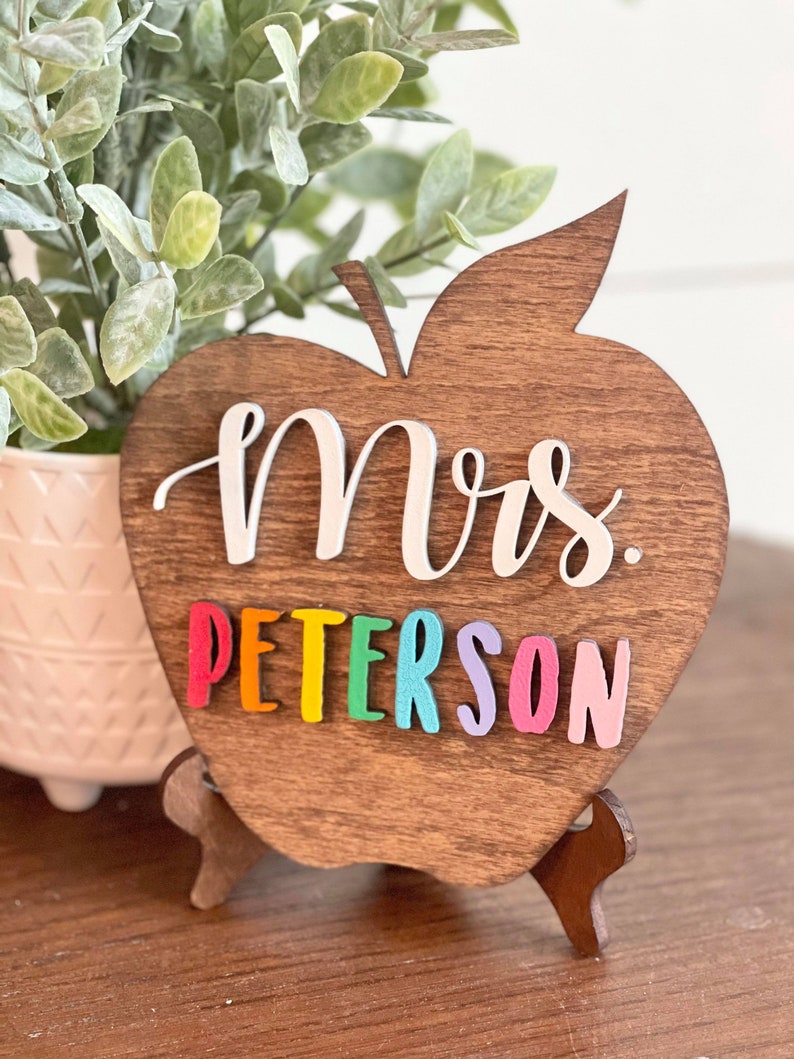 Purchase Teacher's Gifts Online:
These aren't all the holiday gifts for teachers. There are some great holiday gifts for teachers that didn't make our list, like the Personalized Desktop Teacher Apple Sign above.
For nice holiday gifts for teachers, check out the stores below.
Be sure to check each store's minimum cart total to qualify for free shipping. Also, consider in store or curbside pickup to avoid shipping costs.
Which of these 10+ best back to school gifts for teachers are your favorite? Be sure to let us know in the comments.