This Top 10+ Gifts For Minions Lovers list is the perfect help for Minions gift ideas. There are toys, towels, a fart blaster, and more.
For more gift ideas, check out all of our other gift guides.
It has been over a decade since Despicable Me came out and we were introduced to the adorable, although impossible to understand, Minions. They're cute and cuddly (and maybe a little violent) and so many people have fallen in love with them. Those people are easy to shop for if you use our list of the Top 10+ Best Gifts For Minions Lovers.
These Minion gifts run the gamut from gifts for kids to gifts for adults. I thought about splitting the list into two, Minions gift ideas for kids and Minion gifts for adults. But they could overlap, so the items are mixed together.
This gifts for Minions lovers list is only one of the shopping guides we have on Drugstore Divas. Be sure to check out all of our gift guides to make your gift shopping simple.
The 10+ Best Gifts For Minions Lovers
Affiliate links are included in this post and Drugstore Divas may make a small commission if you use them
Honorable mention, before we get into the actual list, is this Despicable Me You're One in a Minion 3D card. No matter which of these Minion gift ideas you choose to give, this pop up card is the perfect accompaniment.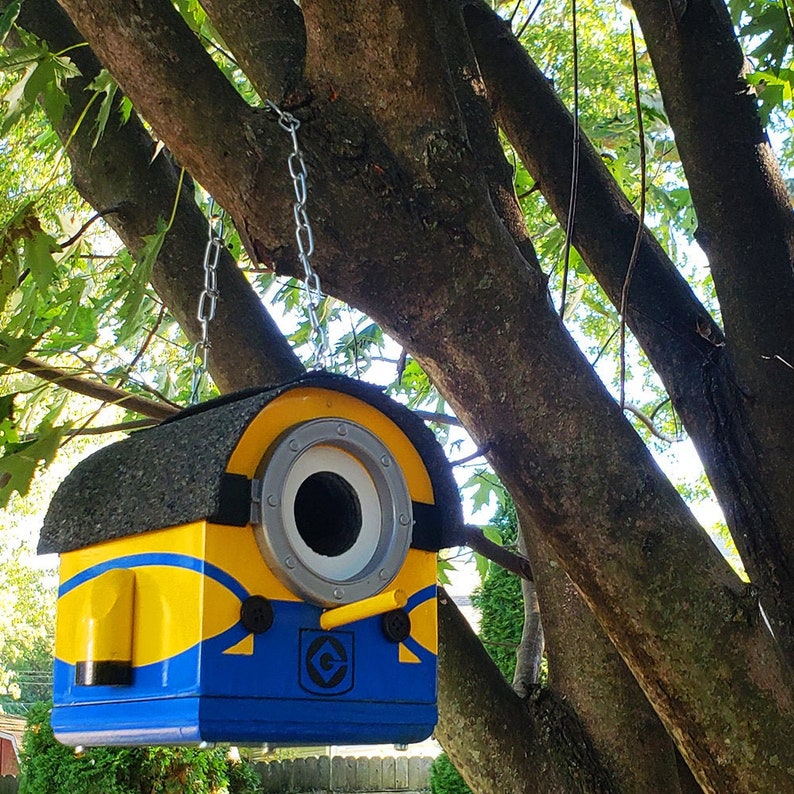 Marvin the Mini Minion Birdhouse
If you're looking for Minions gifts for adults, this Marvin the Mini Minion Birdhouse is absolutely perfect. The handmade birdhouse has a 1 3/4-inch entrance to attract smaller backyard birds. Because yes, this isn't just decorative, it's functional.
The entire birdhouse is 7- x 6- x 6-inches, so it won't take up too much room, but you'll still be able to tell what it is from far away.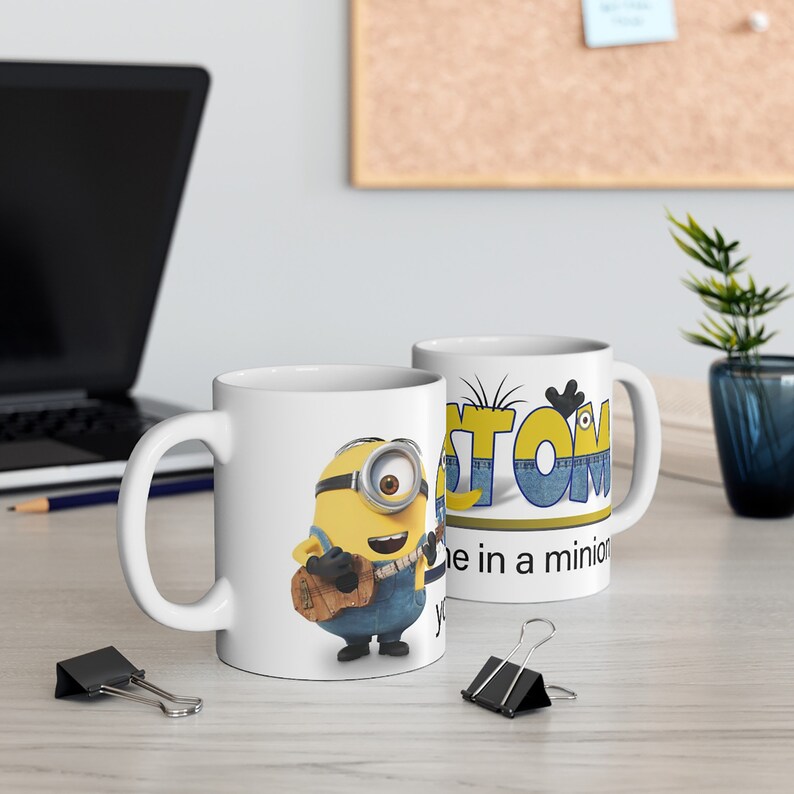 Personalized Minion Mug
If your Minions fan drinks coffee, or really any beverage, this Personalized Minion Mug is a great idea. It kicks off with an image of a Minion, then has your recipient's name written on it.
But, not just written on it. Written on it in a custom Minions font that's so much fun.
Minions: Duet Buddy Singing Disco Bob
If you know the Minions, you know they love to sing. You've probably heard the Minions banana song a million times (and if you have, you need to listen to the Minions Banana Song Electro House Remix).
If your Minions lover enjoys singing along with the Minions, this Minions: Duet Buddy Singing Disco Bob is perfect.
It comes with Disco Bob and a microphone, which can used to belt out Kool and the Gang's Celebration. When you hold the microphone near Bob, he sings (in Minionese) and when you take it away, it's your turn to show off your pipes.
Despicable Me Presents: Minion Madness DVD
Your Minions lover probably wants to watch Minions over and over. But sometimes, you need a little break from the same movie, even if the break includes the same characters in different plot lines.
This Despicable Me Presents: Minion Madness DVD has three mini movies. They're adorable and short (the entire run time is 12 minutes), so they're the perfect "one more show before bed" length for your mini Minions fan.
Minions Kevin Waffle Maker
Your Minions lover will love breakfast if you buy this Minions Kevin Waffle Maker.
What's really fun about it is its shaped so you can actually make two sizes of waffles from one machine. You can pour the mix just in Kevin's mold and you can make one Minion-shaped 4-inch waffle. If you pour the mix over the entire plate, you'll end up with a 7-inch waffle.
That's perfect if you have a small Minions fan who might not be able to eat a huge waffle for breakfast, but can devour the small one with ease.
Memory Game Despicable Me Edition
I love playing Memory with little kids. It's such an easy game for them to learn and it's actually a challenge for you to play too. It feels like adults would have an advantage because your brain is older, but nope. Remembering where you saw all the cards, especially when the pictures are so similar like these are, is really a test.
So this Memory Game Despicable Me Edition is the perfect gift for your young Minion lover and for an older one too.
Operation (Despicable Me Silly Skill Game)
Looking for a fun game to play? Pick up Operation (Despicable Me Silly Skill Game) for your Minion lover.
The Operation game features Stuart the Patient and tweezers to get out 11 plastic "funatomy" parts. There are also four Minion Medics.
The package says you can collect all 50 characters (of which the medics are four). That refers to the Despicable Me 2 Minion Battle Pods (Minions mini figures) that you can purchase online. You don't need them to play the game, but your Minion fan may just need them in general.
Despicable Me Bouncy Balls
Bouncy balls are just so much fun, no matter who you are. I somehow end up with one in my suitcase every single time I come home from Japan. It's never intentional. It just sort of … happens.
So my favorite item on this gifts for Minions lovers list is the Despicable Me Bouncy Balls. How cute are they? And they come in a pack of six, so if one gets lost under the couch or gets left behind at the park, you won't really stress too much.
Despicable Me Tattoos
I have dreams all the time that I get a tattoo … and then spend the rest of the dream trying to figure out how to remove it. So temporary tattoos are more my speed.
If your recipient is the same way (or too young for a real tattoo), these Despicable Me Tattoos will be a huge hit with your Minions fan. There are 75 in the pack, so you get a lot for your money.
Despicable Me Fart Blaster
This is not for me, but your Minion lover will probably love this Despicable Me Fart Blaster. So this is probably a gift for your niece or nephew, not your own kid.
Or for your own kid … but just expect your husband to steal it and fart all the time.
They'll find it hysterical and really, you'll be wondering if this is the best Minion gift for your kid or your spouse.
Minions DVD
If you're trying to create a Minions fan with your holiday gift, be sure to pick up Minions on DVD. You can watch together, then play with something else on this Minions gifts list.
Despicable Me Minions Hooded Towel Wrap
I love how adorable this Despicable Me Minions Hooded Towel Wrap. It's perfect for after the bath, pool, or beach.
It's machine washable and won't fade in the washing machine or dryer, which is great. The reviews say it's a little thin, so just keep that in mind.
Minions Plush Toys
There are so many Minions plush toys out there, so you can purchase a bunch and never have any doubles. And they're all really cute too. Just check out the one in our main photo at the start of this post.
You can purchase different Minions and different outfits, so you might add a half dozen to your cart while you're scrolling.
Kevin the Minion Sculpted Ceramic Coffee Mug
There are very few people who would consider themselves a morning person. But, how could you not be when you're drinking your morning coffee out of this Kevin the Minion Sculpted Ceramic Coffee Mug?
It holds just over 14 ounces of liquid, which is almost comically large considering it's tall, not wide. But that's the Minions. They're comical and make you laugh, plus they put a smile on your face. What's not to love?
Mini Minions Action Figures
These Mini Minions Action Figures come in a blind bag and each Minion has its own personality and charm.
They're small, so they're great for little hands and are easy to store. But they're big enough that they aren't a choking hazard (according to reviews online; you need to determine that and your child's safety yourself).
Despicable Me Minions Bento Box
If your Minion lover is heading back to school, this Despicable Me Minions Bento Box is perfect. It's great for summer snacks too.
There's an inner divider and two small containers that fit perfectly there to portion food into its own spaces. Plus, it's in yellow and blue for Minions.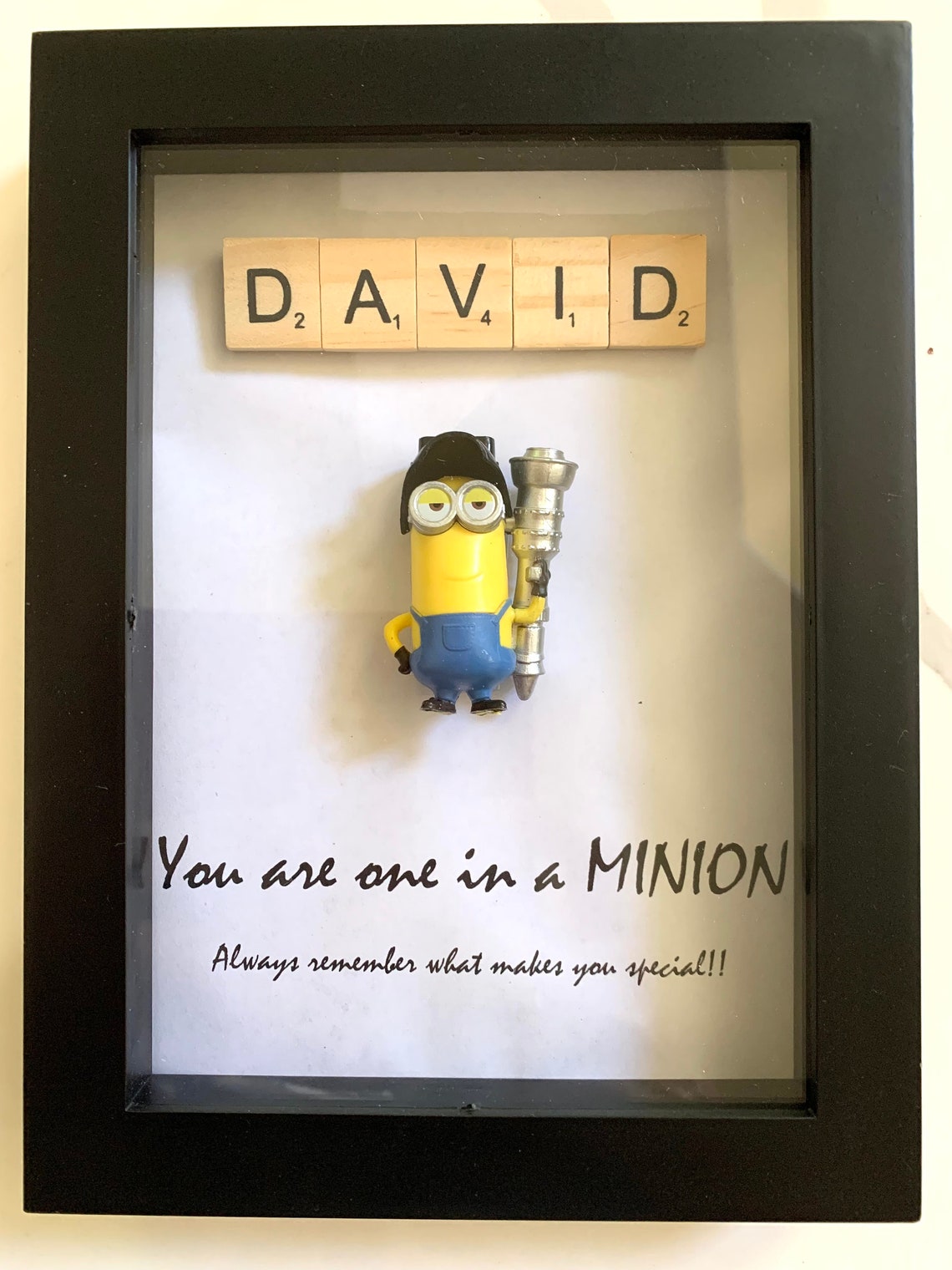 Purchase Minions gifts online:
This list is filled with our favorite Minions gifts, but they're not the only ones. There are a bunch online, like the Personalized Minions shadow box frame above, at the following stores below:
When you're shopping online, be mindful of minimums to hit for free shipping. Also consider curbside or instore pickup in order to avoid shipping charges.
Which of these gifts for Minions lovers is your favorite? Let us know in the comments.