If you don't feel like a road trip or a flight right now, but you need a break from work, plan a staycation. We have a bunch of Tips For Planning The Perfect Staycation so that even if you're not away, you'll still feel like you're on vacation.
For more ideas, check out all of our staycation posts.
Spring break is right around the corner, which is your first chance to go on vacation this year. Or, you know, you can just stay home instead of running around, relax, and turn your week into the perfect staycation.
Honestly, even if you live somewhere boring, you can still have a fun staycation. You don't have to live somewhere that's thrilling or exciting. You just have to make your staycation exciting by following our staycation tips.
But, before we get into the tips, let's talk a little bit about staycations and how they differ from traditional vacations so that you actually know what you're planning.
Staycations: Frequently Asked Questions
What's a staycation?
A staycation is a vacation that you spend at home or your in local area. Instead of flying to a new city, you spend your time in your town or taking local day trips.

It's a great alternative to a traditional vacation, but it's still a vacation. You treat it the same way, by checking out attractions and dining out, but you (usually) end up sleeping in your own bed at the end of the day.
What's the difference between a vacation and a staycation?
There are a few differences between a vacation and a staycation. The most notable is the location. For a vacation, you usually travel somewhere you don't live and for a staycation, you stay in your area.

Another notable difference is the price. A staycation is generally more budget-friendly than a vacation because you're not paying for airfare.

And, of course, there's less travel time with a staycation. You don't have to spend an entire day at the airport or on the road, really wasting most of your vacation time traveling.

But the similarity is that you're on vacation. Both trips are a break from work and your normal routine (like cooking dinner every night).
What are the benefits of a staycation?
A staycation is still a vacation, just one that's basically in your own backyard. It's still a time to rest and recharge, which is one of the main benefits of taking a vacation.

When you take a staycation, you can usually get back to life easier than a vacation. You don't have to worry about jetlag, unpacking, and vacation fatigue.
How do you plan a good staycation?
Follow all our tips for planning a staycation below.
Tips For Planning The Perfect Staycation
Affiliate links are included in this post and Drugstore Divas may make a small commission if you use them.
Make a plan
To me, the best vacation are when we have a plan of attack. You don't have to have every single minute planned, but you do want to have a few things set up.
Know where you're staying, make reservations at the hot spots for dinner, and figure out where the closest parking lots are. If not, you'll end up wandering a foreign city trying to find parking and seating for your crew.
That can happen on a staycation too. Just because you're at home doesn't mean restaurants won't book up or concerts won't sell out. So be prepared. Make reservations and buy those tickets.
Set a budget
When you go on vacation, you usually have a budget of how much you want to spend. When you're planning a staycation, you also want to set a budget. It might be less than if you were paying for flights (obviously), but set one anyway.
And spend the money you set aside. You don't have to spend it all, but don't be stingy because you're at home. To stretch your budget, use coupons and Restaurant.com certificates.
Our area has a local website with local deals for restaurants and attractions in the area. If your town has something similar, be sure to check that out for discounts before your staycation starts.
If not, national sites like Groupon and Viator often have discounted tickets for attractions, spas, bowling alleys, etc., so definitely check those out as well.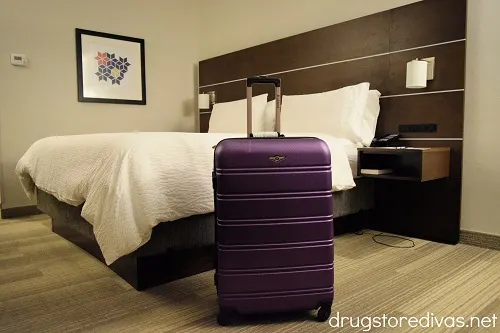 Sleep somewhere new
When you're on a staycation, sleeping in your own bed won't feel like a vacation. So sleep somewhere new. You actually have a few options for this.
Option 1: You can book a local hotel room in your town … that way, you feel like you're on vacation because someone else makes the bed every day.
Book a frugal hotel if you're on a budget or a haunted hotel if you're looking for adventure.
Option 2: You can book an Airbnb in your town. An Airbnb is sometimes cheaper than a hotel, and it's not your home (even if it is someone else's).
Option 3: Pull out the couch bed. When we were young, on Friday nights we were allowed to sleep on the couch bed in the living room and it was so exciting. We looked forward to it all week. So even if you're in your own home, a change of room is fun.
Option 4: Camp in your own backyard. We did this a bunch when we were young too, and that was a big thrill. Plus, if it starts raining, you can always go back inside instead of braving the elements.
For more tips on this, check out our How To Camp At Home post.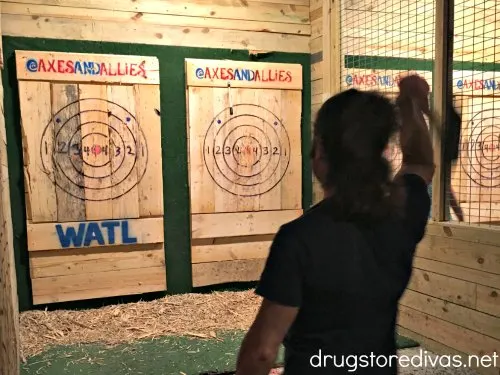 Explore your city
When you live somewhere, you usually go to the same spots. You know what you like and what you're comfortable with. But when you're on a staycation, you get the chance to be a tourist in your own city.
This is a great way to go somewhere you've always wanted to go. Maybe there are local museums that are only open during work hours or botanical gardens that get busy after work. This is a good excuse to check them out during off peak times.
Instead of going where you usually go for dinner, check out some new restaurants.
And remember, you're doing a vacation in your hometown. So now is the time to do all the tourist attractions that you usually skip because you're a local. This week, be a tourist — just not during tourist season.
What's nice is you can plan your staycation in the off peak season, so you don't actually have to compete with tourists for a table or reservation.
Plan a day trip
If you're on a staycation in your own town, you can still drive to a nearby town to check out what it has to offer. It's the perfect way to stay local but explore a little too.
If you're familiar with that town, you can set up a self-guided tour of the scenic spots. If you're unfamiliar with it, book a walking tour for your family. There are usually a bunch of themed ones (historical tours, ghost tours, movie locations, etc.) so you can find one that really interests you.
Day trips are also great excuses to head to a state park that you've never been to, an amusement park, a historical battlefield, a new brewery … things that you know are around but you just make the time to get to.
Don't spend the whole time in the car, driving from place to place, but a day trip is a nice way to break up a long weekend at home.
Pick out games
We have this very cool game table in our living room. It looks like an end table but there are five drawers that pull out revealing games like checkers, backgammon, and more. We also have a ton of board games in our bonus room upstairs.
If your family loves games, now is a good time to buy some. Or just break out the ones you already have. Or play cards (my family loves playing cards every night when we have company). Whatever you do, as long as you do it as a family, that's great.
A good idea is to purchase some games to play before your staycation starts. That way, you'll have something new to play and won't waste your entire night trying to decide on something.
Do crafts
If I could take a whole week off just to do crafts, I would be so happy. All I want to do in my (very little) free time is make things. So, if you're planning a staycation, plan some crafts.
If you're not crafty, then tackle some projects. Have you been wanting to redecorate your living room? Or how about plant a garden? Now is the time to do it.
But, don't just look at your To Do list and check things off because that's not a real vacation. Taking a week off so you can stay home and paint your bathroom doesn't count as a craft.
Get snacks
Part of what I love about being on vacation is that calories don't count. Okay, fine. Technically they do, but everyone jokes and says they don't. So when you're on vacation, you get to order the extra appetizer and have dessert. You get ice cream. And you don't even think twice about it. Keep that mentality when you're on your staycation.
Buy all the snacks that you love when you're at the grocery store: cookies, mozzarella sticks, soda, whatever you don't usually have at home. And indulge. Have a full on ice cream sundae bar for dessert or a Belgium waffle bar and all the toppings for breakfast. Remind yourself, and your stomach, that you are, in fact, on vacation.
Don't work
Here's the thing about a staycation. It's so tempting to work. I mean, right now, it's after hours and I'm typing this post. So I'm definitely a victim of this. But on a staycation, you have to avoid the temptation to get a little work done.
Unplug. Unwind. Spend some time with whoever you're taking a staycation with. Or just spend some quality time with your pillow and take a nap. Just whatever you do, don't treat it as a week to constantly check your work email.
And, at the same time, try to stay off social media too. It's so easy to pick up your phone and endlessly scroll Facebook and Twitter. But don't. Make sure you limit that and really enjoy your family time and make it a point to be present.
Staycation Ideas
If you're looking for some fun activities for staycation nights, we have a few ideas that might interest you.
Cooking Classes
If you want to learn to cook something new, from the comfort of your own home, take a virtual cooking class. There are so many online classes out there, so you can search by cuisine or difficulty, find some new foods you want to try, and enjoy.
Movie Nights
Turn your living room into a movie theater. Rent the latest blockbuster, make popcorn, and enjoy a movie night at home.
Paint Night
Paint nights are so fun, but they can get really expensive if you're paying for your whole family. What you can do instead is pick up canvases and paint and have a paint night at home.
Spa Day
Have a spa day at home with a bubble bath, a face mask, nail painting, and all the quiet relaxation that comes along with it.
Do you have any other tips for planning the perfect staycation? Be sure to let us know in the comments.