From edging to power washing, you'll make your home the envy of the block when you follow these tips to frugally enhance your curb appeal.
For more ideas for your house, check out all our for the home posts.
We've been spending a lot of time at home this year, as have a lot of other people. But, I keep saying, "We pay our mortgage every month; we're just getting our money's worth."
We spend every Sunday sitting on our porch, looking out into the cul de sac, and really just enjoying our home. If you've been doing the same, but really getting frustrated with how your home looks outdoors and wondering how to frugally enhance your curb appeal, you've come to the right place.
We've done a lot of frugal upgrades to our home since the spring, and it really has made a difference.
Most people think about enhancing their curb appeal when they're getting ready to sell their homes. Don't make your home perfect for the next owner. Make it perfect for you.
How To Frugally Enhance Your Curb Appeal
Affiliate links are included in this post and Drugstore Divas may make a small commission if you use them.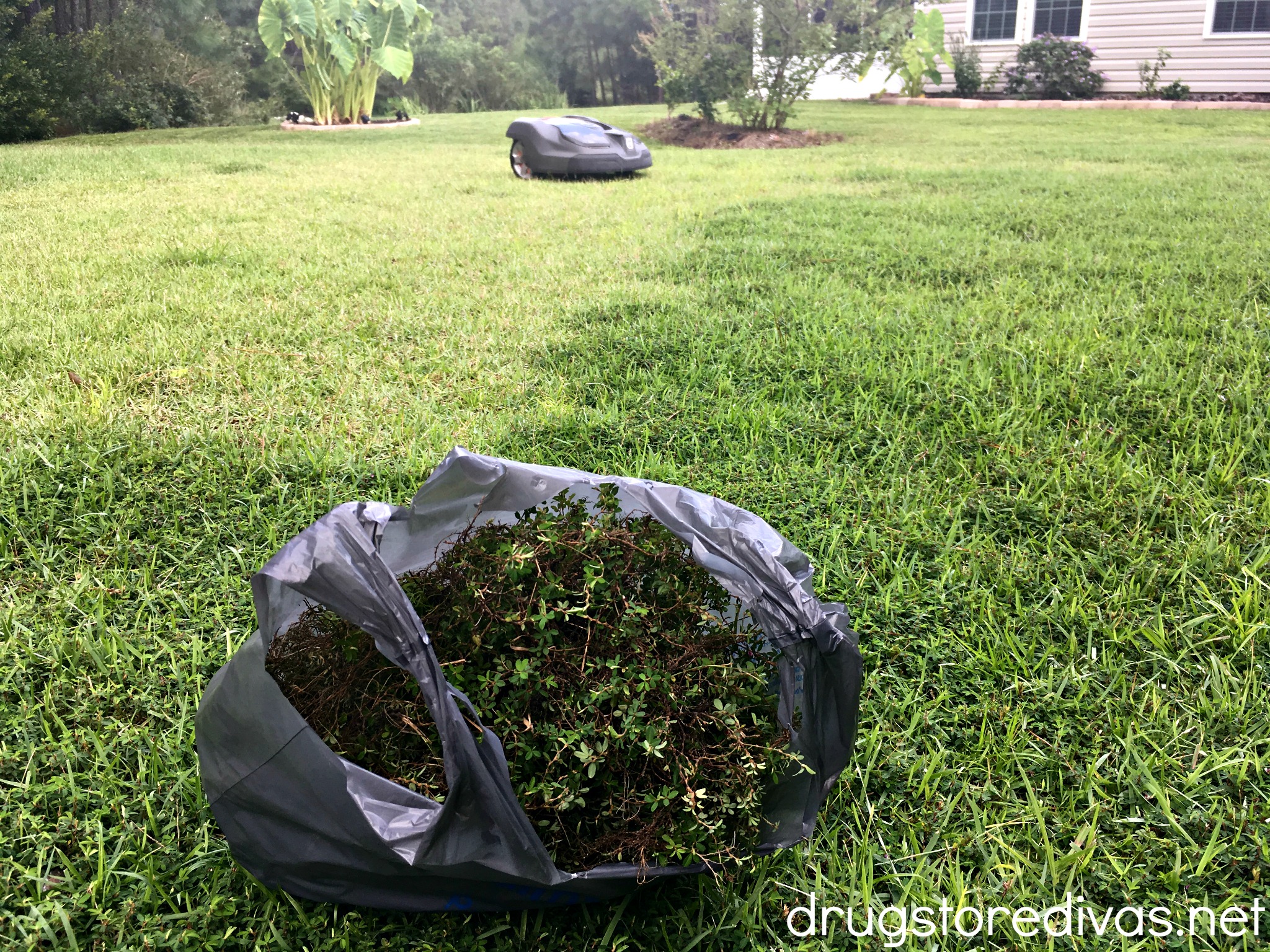 Mow your lawn
The easiest and most common way to enhance your curb appeal is to mow your lawn on a regular basis. We have a home near us that doesn't mow very often, and it really stands out — in a bad way.
Mowing your lawn isn't the most fun house chore (honestly, it's kind of the worst), but it adds so much to your home's look.
We are really lucky to have an Automower now, so we actually just push a button and our lawn mows itself. Well, the Automower mows it, but you get the idea.
If you have the money, and you hate mowing the lawn, invest in an Automower. If not, just mow your lawn on a regular basis.
How often should you mow your lawn?
Never up to weekly. There isn't an exact timeline as to when you should mow your lawn. It depends on grass height and rainfall.
But, in general, in an area with four seasons, follow this schedule: In the spring, you should mow every 1 to 2 weeks; in the summer, mow every week; in the fall, you can mow once a month; in the winter, you can leave it alone.
What's the cost for mowing your lawn?
Basically $0.
If you already have the mower, all your cost could be is the bit of gas or electricity to run the mower. So, very frugal.
Water your lawn
We get so much rain here this time of year that we don't need to water our lawn ourselves. But we do have an irrigation system built in and a high tech sprinkler system for the times when we need to water.
Watering keeps your grass nice and healthy. Just be sure to water in the early morning or late at night, when it's cooler. If you water during the day when it's hot, the water will just evaporate and won't actually replenish your lawn.
And, if you have dormant grass like us (which is grass that basically hibernates for the winter), don't water until the grass is green again. And don't plant seed until then either.
How often should you water your lawn?
Two to three times weekly. You should water your lawn two to three times a week, if you're not getting any rain.
Your water needs about an inch of water a week, year round. If you have a sprinkler system like we do, you can set it to assess the moisture in the lawn before running. So, if it senses recent rain and your lawn is saturated enough, it will forgo its scheduled run.
What's the cost for watering your lawn?
The cost for watering your lawn is based on how much water you use and what the price of water is.
Our rate for water through our irrigation system is less than the rate for the water that runs through our house, so it's cheaper for us to run our sprinkler system than it would be to water with a hose.
Edge your driveway and curb
Have you ever driven past a home and been so impressed with how perfectly polished their lawn looks? Most of that appeal has to do with edging. When you edge along your driveway and curb, you create these perfect lines that sort of "box in" your lawn.
When you don't do that, your lawn grows errant. It sort of hangs over the curb. And if you don't edge your driveway, the lawn will actually grow over your driveway, making your driveway smaller. You'd actually be surprised at how much of your driveway can just be taken over by long grass and weeds.
If you have a sidewalk at your home, you'll have to edge that too. And that means a little more edging for you, but a little less mowing, so it works out.
How often should you edge your lawn?
Never up to every two weeks. This is also a little more dependent on the weather than on the calendar.
But, a good generalization: In the spring and summer, edge every two to three mows; in the fall, edge every mow (since you're only mowing once a month); in the winter, you can skip edging.
What's the cost for edging your lawn?
Basically $0.
This is again based on the fact that you already have an edger (or a combination trimmer/edger, which is what we use). As with mowing, your only potential is the bit of gas or electricity to run the edger. So, again, very frugal.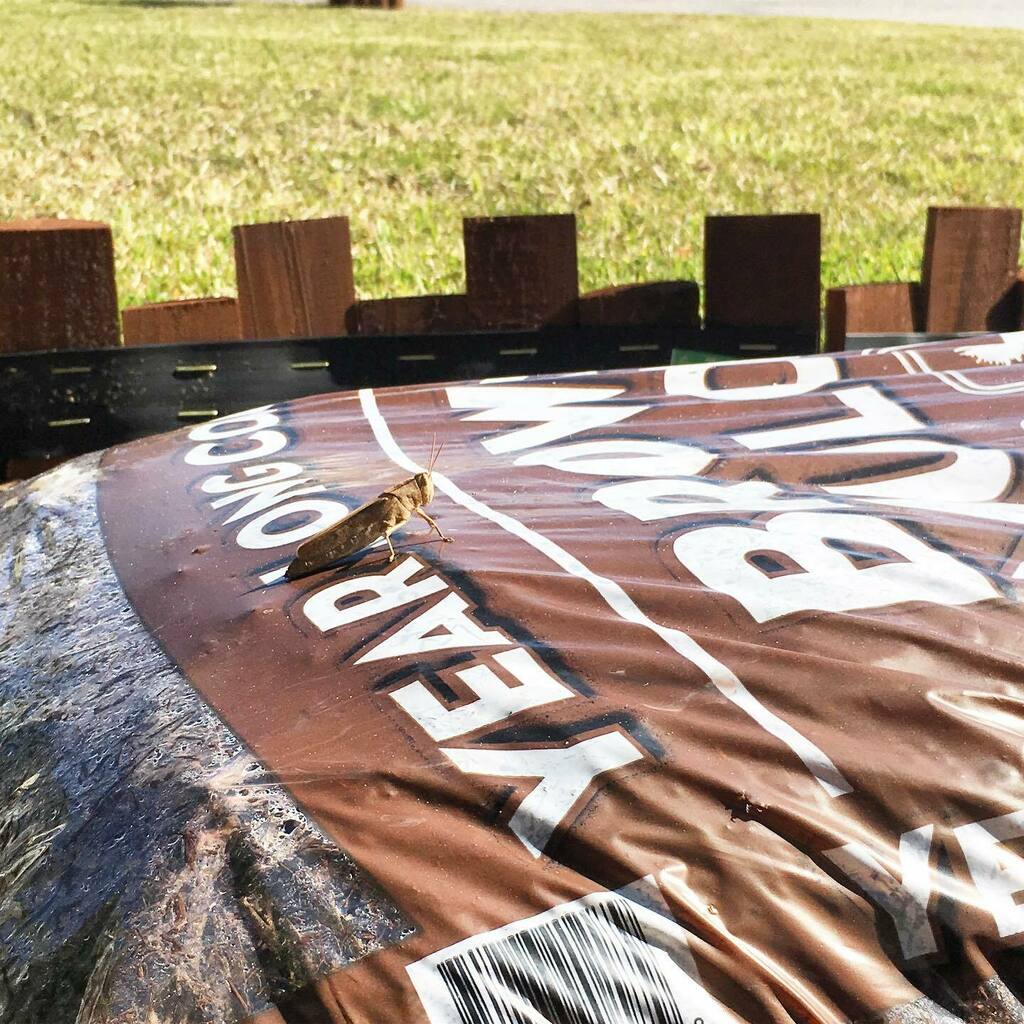 Remulch
We have an area in front of our home that is sectioned off for plants and bushes. My goal in life is to pull up all the bushes that are currently there and plant fruit trees and bushes. I originally said as soon as we replant there, we'll remulch because too many storms and hurricanes had pretty much wiped out our mulch.
But after a year of repeating that, and never finding the fruit trees I want in stock, we finally just remulched. It made such a difference. Instead of staring out from our porch, looking at dirt and mulch debris, we have a beautiful garden bed to look out at.
We remulched about three months (and one hurricane) ago, and our mulch looks as full as the day we laid it.
How often should you remulch?
Annually. At the beginning of the spring season, or after the last frost depending on where you live, take a look at your mulch and judge how it fared through the elements.
You may only need a couple bags of mulch fill in the gaps or you may need to redo the entire thing.
What's the cost for remulching?
Bags of mulch run between $2 and $3, on the low end, for 2 cubic feet of mulch. You cost will vary based on how many garden beds you have.
We have a large garden bed that runs the full length of our house (minus the garage) plus a smaller, but wider, bed. We also decided to mulch around the mailbox, and it took us 13 bags of mulch, or about $26, to remulch our entire front yard.
Add edging
If you have garden beds to remulch, you'll definitely want to add edging around them. That will actually help to keep the mulch from flying away during storms. So edging is basically protecting your investment.
When you're choosing edging, look for something that fits your aesthetic, but also something that is tall. If you can't see it from the curb, it doesn't exactly add curb appeal.
You can go with concrete edging, which is what Pete gravitated towards when we were choosing our edging. But I wanted more of a Japanese feel (since I'm Japanese), so we went with a wooden, bamboo-esque edging. It looks amazing and really does stand out from the curb, if I do say so myself.
How often should you add edging?
Once. All you need to do is add edging once, and as long as you choose something that was specifically designed to be edging, it should last you until you move — or until you change your aesthetic.
If you're like our neighbor and just decide to edge with found bricks, those bricks may sink into the ground (theirs did). So if you like the brick look, look at paving stones.
What's the cost for edging?
The cost of edging really depends on what you choose to edge.
I tried to talk myself into something cheaper, just to be more frugal, but I knew I would end up wanting to replace it eventually. So that would end up costing me more in the long run. Since you're only going to do this once, it's worth it to pay a little more for what you really like.
With all that being said, to edge the two aforementioned garden beds and around our mailbox, it cost about $250 in edging.
Trim your hedges
Our hedges are the bane of my existence. Like I said, my goal in life is to pull them out. I pulled one out when we were remulching, and it took all of my effort and strength. So, for now, the other four are there. Well, three of the four are there. One is so strange and so tiny, it hardly counts. I think they drive me so insane because even though they were all planted simultaneously, they're not growing at the same rate. And there's nothing I can do to fix that.
Left to their own devices, hedges will just grow any which way. So get your Edward Scissorhands on and trim the hedges into a manageable shape. They'll look better from the curb that way.
How often should you trim your hedges?
Two to three times a year. The timing of trimming your hedges depends on what type you have, honestly.
But, in general, trim them two to three times a year, once in the spring and once in the summer. Of course, if they're getting unruly, trim them back as needed.
What's the cost for trimming your hedges?
Nothing, as long as you already have the hedge trimmer.
Buy cute patio furniture
Cute patio furniture can make your home so inviting. And that's exactly what curb appeal is. You want people driving by to see a home they want to visit, a porch they want to sit on. And cute patio furniture does that.
A pair of chairs and a table with a tabletop decoration are perfect. Or you can be like us and have four chairs and two tables on the porch.
We get a lot of company.
I blame the chairs.
I also blame the fact that we sit on our porch all Saturday afternoon and basically sun up to sun down on Sunday. So that's just magnetic. We never invite people (except my dad; Pete always invites him); everyone just invites themselves.
But you know what? We always wanted to have that house where everyone is comfortable and everyone always has an open invitation. And our two sets of patio chairs did that.
How often should you buy cute patio furniture?
Once. Buying patio furniture is another of those one and done purchase, unless your style changes.
What's the cost for buying cute patio furniture?
Just like I mentioned with the edging, buy what you like and pay whatever it costs. You don't want to talk yourself into something cheap just because it's cheap, and be unhappy with it.
But, you can look for sales. My parents bought us a set of our patio chairs as an anniversary gift earlier this year. I found the set on sale for under $60 for two chairs, and I absolutely love them.
They perfectly match the style of table we already had on the porch, but the color didn't match. So it cost me a can of spray paint to update the table. And now I'm obsessed with how it looks.
Get a front door wreath
I'm a big fan of seasonal décor. It's why I change the kitchen towels every season and every holiday, and why I have outdoor pillows for every season. So, if we had a different door (one with less windows), I would get a front door wreath for every holiday and season. Or, knowing me, I would make one.
Homes with front door wreaths really enhance curb appeal. The wreath draws someone's eyes in and makes your home stand out.
How often should you get a front door wreath?
Once. Or two dozen times. Okay. So for argument's sake, you really only need one front door wreath. Get a monogram wreath with the first letter of your last name on it, a Welcome wreath, or just some pretty colors that match your home.
What's the cost for a front door wreath?
The cost of a front door wreath can vary so much.
In a Facebook group I'm in, people make beautiful mesh wreaths using dollar store material for under $10. And there's a woman at the farmers' market we work at who sells these exact same wreaths for $55 to $75.
And then cost depends on what kind of wreath you want. A personalized wooden one, a personalized metal one, a generic wooden or metal one, a large one, a small one, on and on.
And then, if you're like me and want to change with the seasons, you'll be paying that cost times four (or more, if you change for holidays too).
Power wash your house and driveway
A couple weeks ago, Pete power washed our entire driveway. I can't even begin to explain to you how different it looked. I wish we thought to take before and after photos. So much junk and dirt accumulates on your driveway and makes your driveway look, well, used. Which is fine. You live in that house, so of course, you're going to use it.
But power washing the driveway makes it look brand new. It's such a stark difference from when you don't power wash it. So if you want to enhance your curb appeal, that's the way to go.
And, while you're power washing the driveway, go ahead and power wash your house too. It may take you a whole afternoon and might require you to break out the ladder if you have a second floor, but it's worth the time and effort.
In New York, we never had to power wash. And if you have bricks, you don't need to either. But you definitely need to if your house is made from vinyl siding.
How often should you power wash?
Annually. You should be able to get away with power washing your house annually. You should power wash your driveway and patio annually as well.
What's the cost for power washing?
The cost for power washing really varies.
You need to hook your pressure washer up to your hose, so you are paying for water every time you power wash. If you only power wash with water, that's all your cost is. But if you have a pressure washer that has a detergent section or if you spray a cleaner down before you power wash, you have to factor that into your cost.
But it's a lot cheaper to do it yourself than to hire someone to do it.
What other tips do you have to frugally enhance your curb appeal? Be sure to let us know in the comments.