If you're still trying to find a Father's Day gift for dad, and he happens to be a cigar smoker, you happen to be in luck. We have a great list of Gifts For Cigar Smokers here.
For more ideas for dad, check out all of our gift guides.
If you're shopping for a cigar aficionado, you might feel like buying him some cigars is an easy gift idea. But, that's actually not the best way to go. The cigar smoker may be a fan of a particular brand. And if you don't know that, you might end up getting him something he doesn't like.
So picking up something associated with cigars instead is a much better way to go.
If you can't find what you're looking for on this list, try checking out our other gift guides. You're bound to find something for dad on one of those shopping guides.
Gifts For Cigar Smokers
Affiliate links are included in this sponsored post and Drugstore Divas may make a small commission if you use them.
Humidor Jar
Pete had a homemade humidor that was working just fine until he ordered cigars in bulk and the homemade humidor wouldn't cut it. So he upgraded.
He has the XIFEI Acrylic Humidor Jar, above, which comes with a humidifier and hygrometer. Every so often, he'll have to add some water to the humidifier and that's that. It holds 18 full size cigars or nearly 50 De Nobili cigars (which is what it's filled with now).
Custom Folding Ashtray
If you think "an ashtray is an ashtray is an ashtray," you'd be wrong. So many ashtrays are made to fit cigarettes and don't actually fit cigars. Plus, they're not very interesting to look at.
This Custom Folding Ashtray, which we got through Groovy Guy Gifts, is perfect. The natural wood box is laser engraved on the front, so this looks like a very classy wooden box when it's closed.
Inside is the real prize. There's a removable ashtray (for easy cleaning), a cigar cutter, puncher, and holder. The box is perfect for traveling because it has everything a cigar smoker could need. The only thing about it is that the puncher doesn't lock in place, so your cigar smoker might want to leave it at home.
Groovy Guy Gifts sells a ton of other cigar-related gifts too, and you can check them out below.
Cigar Whiskey Glass
A cigar and a whiskey go hand in hand. And that usually means one in each hand, which is hard if your cigar fan is someone who talks with their hands. That's why this cigar whiskey glass is perfect.
It has a space on the side where a cigar fits perfectly. It fits up to a 54 ring (although that's a tight squeeze; a 50 or 52 fit better).
The cigar whiskey glass is a really cool conversation starter too. Once your cigar fan brings it out, everyone will be asking where it came from. And you'll be the hit of the conversation.
Cigar Tasting Journal
If dad likes his cigars, he'll like remembering them too thanks to this Cigar Tasting Journal. There are 100-pages in this journal, so dad can chronical 100 cigars, leaving them ratings, notes, and more.
There are a bunch of these out there, but what I like about this specific cigar log book is that there's a spot for the label to be affixed to the page. A lot of people save the labels, but don't really have anywhere nice to save them. This journal changes that.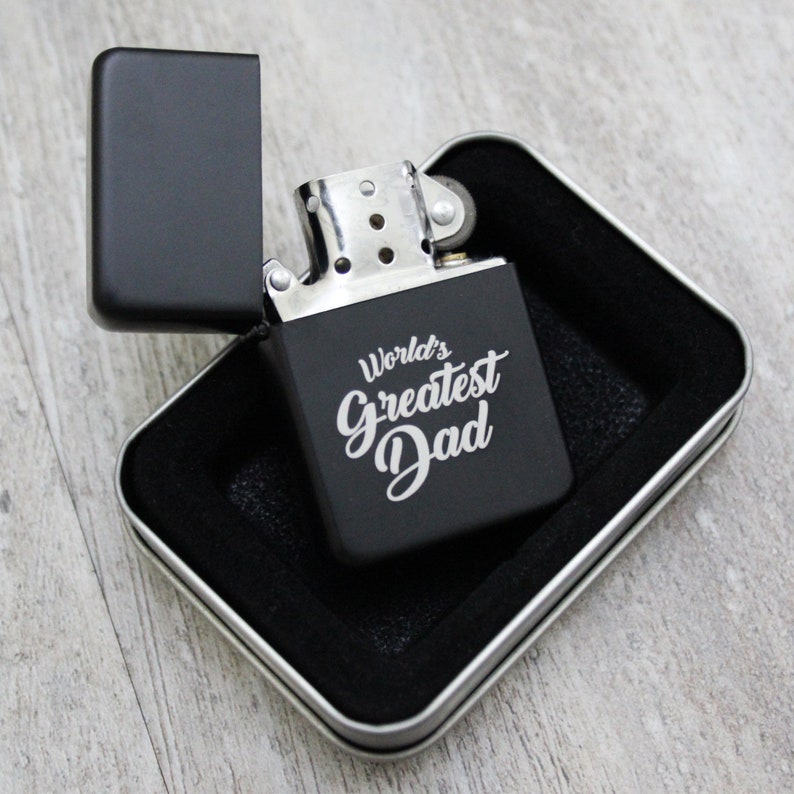 Personalized Custom Engraved Lighter
Dad needs a lighter for his cigars. Sure, he probably has one (or one dozen, like women and their lip balm). But what he doesn't have it a personalized custom engraved lighter.
This specific one has 30 designs to choose from, from "World's Best Dad" to your own personalized message. You can also choose either a black, white, silver, or gold lighter. With that many combination options, you'll be able to find the perfect one for dad.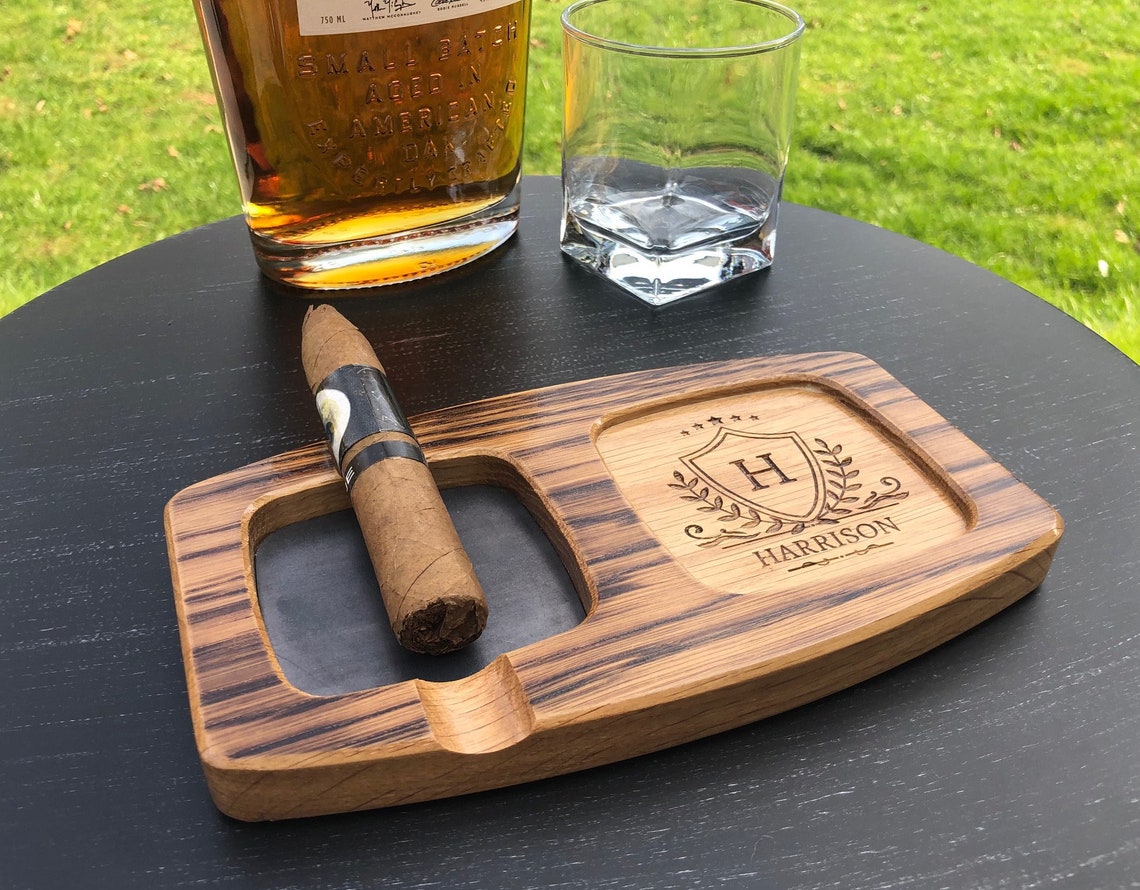 Personalized Whisky & Cigar Tray
Whisky and cigars are a classic pairing. If you agree with that, but you weren't a big fan of the Cigar Whiskey Glass above, we have a gift you might like better: a personalized whisky and cigar tray.
The tray has an ashtray on one side and an engraved, built-in, whisky glass coaster on the other side.
You can choose from a few predetermined stylings for the engraving. But, if you don't like any of them, you actually have the option to add your own custom image or text, so you can really make this a one of a kind gift for dad.
7.
That's What I Do I Smoke Cigars And I Know Things Mug
Most dads know everything. That's just how they're built. If your dad knows everything, and he smokes cigars, he needs this That's What I Do I Smoke Cigars And I Know Things Mug.
There are a few styles of this much (including one with a Harry Potter font), but I like this one best because the "i" in cigar is the image of a cigar. It felt a little more creative to me than some of the other options.
I'm Holding A Cigar Yes I'm Busy Shirt
I'm laughing way too hard at this I'm Holding A Cigar Yes I'm Busy shirt because it's something I could absolutely see Pete's dad wearing. I couldn't see him saying this, just wearing the shirt as a joke.
And I bet your dad would too. Plus, it would give him an excuse to say no to anything else mom puts on his honey do list.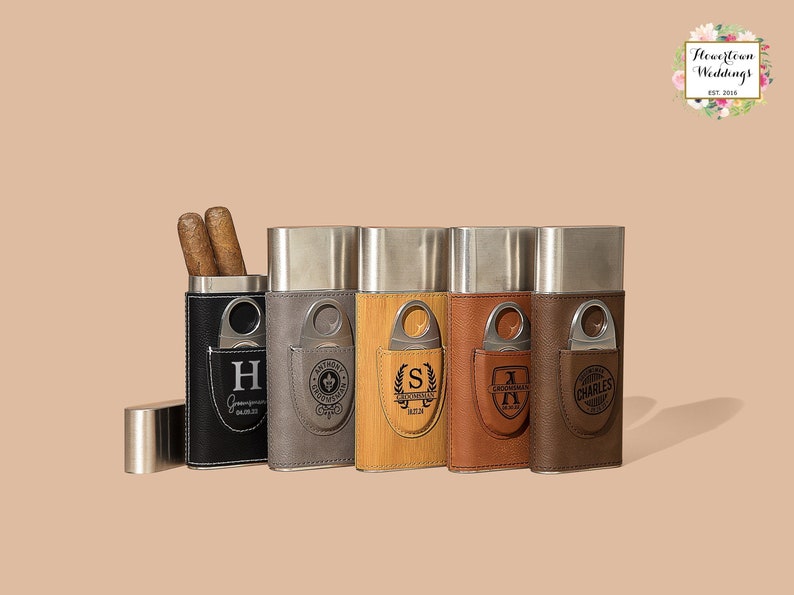 Order Cigar Gifts Online:
Of course, these aren't all the cigar gifts out there. Just our favorites. We weren't able to include everything, like the personalized cigar case and cutter above.
For ideas of where to shop for cigar gifts online, check out the stores below:
Be sure to double check a store's minimum cart total to qualify for free shipping. Also, consider instore or curbside pickup to avoid shipping charges.
Want more Father's Day Gift Ideas?
If you're looking for more Father's Day gift ideas to go with the ones above, we have a few other posts that might interest you. Check them out below.
Which of these Gifts For Cigar Lovers is your favorite? Let us know in the comments.