From free concerts to visiting parks, there are a lot of Free Things To Do In Wilmington, NC. Check them out to save on your travel budget.
If you're planning a trip to the area, check out all of our Wilmington, NC posts.
We love living in Wilmington, North Carolina. It's January and 78 degrees, so that's one of the reasons. Another is that there's so much to do here. And it doesn't have to be expensive stuff either. There are a ton of free things to do in Wilmington, NC.
I'm keeping this list specifically to Wilmington, NC. And Wilmington doesn't actually have a beach. There are beaches in the Wilmington area, like Wrightsville Beach and Kure Beach, but those aren't actually in Wilmington. So that's why you won't see the beach on this list.
Although spending the afternoon at the beach is a free thing to do near Wilmington.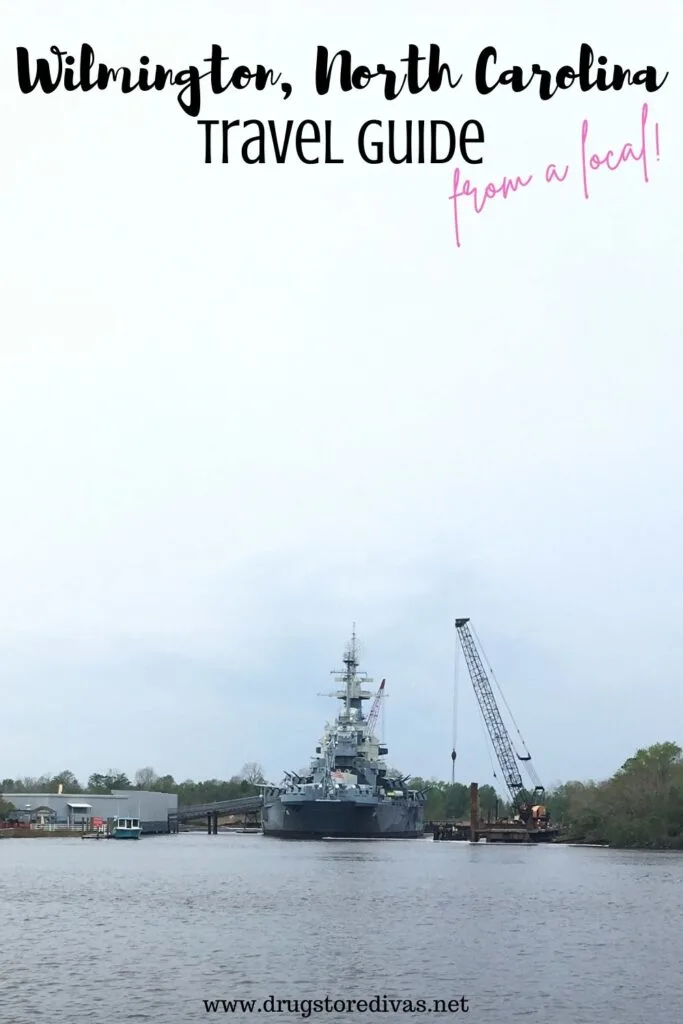 If you're visiting Wilmington, check out our Wilmington, North Carolina Travel Guide to plan things to do during your trip.
10 Free Things To Do In Wilmington, NC
Affiliate links are included in this post and Drugstore Divas may make a small commission if you use them.
Visit The New Hanover County Arboretum
If you love flowers and botanical gardens, you'll love the New Hanover County Arboretum (6206 Oleander Dr.). The seven-acre arboretum has a children's garden, an herb garden, a Japanese garden (my favorite!), and more.
There's also staff on hand to answer any questions that you may have about the botanical garden itself or your home garden. If you do live locally, there are educational classes and special events offered at the arboretum too, which are worth attending — and free to the public.
If you like Pokémon Go, it's a great place to play. There are a few gyms and stops at the arboretum.
And, even though general admission to the arboretum is free always, you can become a member of the garden. That'll give you perks like 10% off at the gift shop. The New Hanover Country Arboretum is part of the American Horticultural Society Reciprocal Admissions Program, which allows complementary reciprocal admission to over 300 gardens in the country.
Quick note, though: Airlie Gardens participates as well, but enforces a "90-mile exclusion" rule, so you can't visit Airlie for free with an Arboretum membership.
Hours: Garden Hours: 8 am to 5 pm (daily); Plant Clinic and Gift Shop: 10 am to 4 pm (Monday through Friday)
See Live Music At Downtown Alive & Marina Grill Concert Series
If you're looking for something free to do in Wilmington in the summer, check out the Downtown Alive Concert Series. It replaces the Downtown Sundown Concert Series. Each Saturday night, beginning at 5 pm, Wilmington Downtown Inc. sponsors a free, outdoor concert in downtown Wilmington.
The headliner changes weekly, ranging from '80s cover bands to Coldplay cover bands and everything in between.
Admission is free, although you can purchase food and alcohol (if you're 21+) during the concert.
This is not to be confused with the music series at Marina Grill (18 Harnett St), which also started in the wake of the ending of Downtown Sundown. During that series, local bands play on the pier behind Marina Grill on Friday nights. National, touring cover bands take the same stage on Saturday nights.
Alcohol is available for purchase on the pier (although, budget-friendly note: drinks are cheaper inside Marina Grill and you are able to bring them onto the pier). It's standing room, mostly. There's a section at the back of the pier that's designated for folding chairs, which guests need to bring for themselves.
Learn At The Cape Fear Museum Park
The Cape Fear Museum Of History And Science (814 Market St) is a really great museum if you want to learn about the history of the Cape Fear region. There's a space exhibit inside, one about Michael Jordan, and a full exhibit upstairs that changes often. It has been dinosaurs and then changed into an exhibit about a giant sloth. Of course, to go inside, there's a fee. (Unless you go on Museum Day Live, which is the Smithsonian's annual free museum day. The Cape Fear Museum Park usually participates. So does the Wilmington Railroad Museum).
But outside the museum is the Cape Fear Museum Park. There are interactive exhibits outside, a walking path, history about the area, and more.
The Cape Fear Museum Park, which is adjacent to the museum, is free and open to the public. You can spend a lot of time there without actually going inside the museum.
Hours: dawn to dusk (daily)
Walk The Wilmington Riverwalk
Wilmington has a really great downtown area. Front Street is filled with bars, restaurants, and local shops. But one block over is the aptly named Water Street. And then, one block down, is the newly updated Riverwalk.
The Wilmington Riverwalk runs nearly two miles, nearly going from the Cape Fear Memorial Bridge to the Isabel Holmes Bridge. It goes along the Cape Fear River, passes behind where the Coast Guard's USS Diligence was stationed and Wilmington's historic district, and more.
Across the river, you can see the USS Battleship North Carolina and it's one of the best places to take a photo of it.
And again, my Pokémon Go playing friends, this walk is filled with gyms and stops.
Play At Long Leaf Park
If you're looking for a great park in the Port City, Long Leaf Park, previously known as Hugh McRae Park, (314 Pine Grove Dr) is it.
The free town park has an inclusive playground (including a Liberty Wheelchair Swing), splash pad (opened seasonally), a basketball court, a dog park, an outdoor gym, a 1.55-mile trail, a garden area with pond and gazebo, tennis courts, and a volleyball court.
But that's not all. There's also a StoryWalk, which is a children's picture book along a walking trail. Parents and children can walk and read the story together. So yeah, this park has everything for, really, everyone and is one of the best things you can do with your family to get some sunshine.
Hours: 8 am to 10 pm (daily)
Visit Greenfield Lake Park And Gardens
Wilmington has a ton of local parks, and another really good one is Greenfield Lake Park And Gardens (1739 Burnett Blvd). Greenfield Lake Park is exceptional because it's 250-acres of park.
There are tennis courts, a 5-mile walking/biking trail, playgrounds, and picnic areas. We actually thought about having our rehearsal dinner at Greenfield Lake Park, but the picnic area is on a first come, first serve basis and we couldn't risk that.
Fishing is permitted at the park, and there's water access if you have a boat (with trolling motors that are 3hp or less), kayak or canoe. Keep in mind, though, there are alligators and water moccasins in the lake, so you'll be up close and personal with nature.
Greenfield Grind Skate Park is located at Greenfield Lake too. The 9,000-square foot concrete park has hips, rails and ledges for skateboards, inline skates, and BMX freestyle bikes. There's no cost to use the skate park, which is open when the park is.
Hours: sunrise to sunset (daily)
Shop At The Riverfront Farmers' Market
Wilmington has a lot of farmers' markets, but the OG market is the Riverfront Farmers' Market. That's where Pete use to sell his small batch marinara sauce, Rita's Wooden Spoon.
The name has been a bit of a misnomer for the last few years, due to construction that's happening on the riverfront. The Riverfront Farmers' Market was originally on Water Street/on the Wilmington Riverwalk. In 2016, it was moved to a parking lot on Water Street and in 2019 it was moved to Dock Street. The next year (and half of the one after), it was in the parking lot next to Waterline Brewery.
It's back on Dock Street now, and runs from 2nd Street to Water St. So it's close to the river, but not in front of it.
The market runs from March until November and is free to just walk through and browse.
Hours: 8 am to 1 pm (Saturdays from March until November)
Take A Historic Walking Tour
If you like history, you'll love the monthly free walking tour hosted by the Historic Wilmington Foundation (211 Orange Street). It takes place on a Sunday each month (the dates vary) at 2 pm and lasts for about 90 minutes. The walking tours are about an hour.
The theme varies each month. Previously the tours have covered places of worship, Wilmington's Soda Pop District (the up and coming area where the new Hi-Wire Brewing is), Lantern & Lore (The History Behind the Ghost Stories), and Wilmington's Halls, Lodges, and Castles, which focuses on historic buildings (like the ones housing the Children's Museum of Wilmington and the Slice of Life pizza parlor).
It's a great way to learn about the local history of the area, plus get a bit of exercise while you do it.
You have to register for the tour ahead of time and can do that here.
Visit the Stanley Rehder Carnivorous Plant Garden
Here's a fun fact. Venus flytraps only grow within 70 miles of Wilmington, NC. That's it. They don't grow anywhere else. So, if you're in the area, you should definitely see some in the wild.
The best place to do that is the Stanley Rehder Carnivorous Plant Garden (3800 Canterbury Rd) in the spring. The park is open year round, but the spring is the best time to see the carnivorous Venus flytraps.
Each June, the Flytrap Frolic is held at the park. It's a free event with garden tours, hikes, arts and crafts, and more. The event is open to the public and definitely worth checking out if you're in town for it.
Hours: Daily from dawn to dusk
Take a Dawson's Creek or One Tree Hill self-guided tour
There's a lot of filming done in Wilmington, so much that it has been dubbed Hollywood East. Two of the most popular shows filmed in the area are Dawson's Creek and One Tree Hill.
If you're a fan of those shows, you can take a self-guided tour of some of the show's hot spots.
To make it easier, check out this Dawson's Creek Locations Tour list and this One Tree Hill Locations Tour list. Those have been put together by the town, so just follow them along instead of trying to find them yourself.
Planning a trip to Wilmington?
If you're planning a trip to Wilmington, NC, these posts will help you make your trip complete:
Eat In Wilmington:
Drink In Wilmington:
Enjoy Wilmington: