Tea Collection: Get 10% Off The New Madras Coast Arrivals
FTC Disclosure: This post contains affiliate links and I will receive compensation if you make a purchase using my links.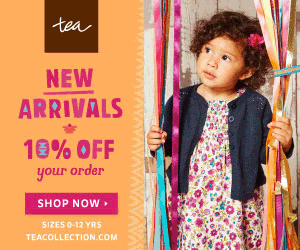 Have you been keeping up with the new lines at Tea Collection? You'll be excited to hear that the children's clothing brand has released a new collection. Check out the Madras Coast Arrivals, inspired by India's Madras Coast. The new collection's goal is to create styles that evoke the carefree coastal vibe of southern India and are inspired by the bohemian nature of beach life.
New designs, in children's sizes 2 to 12, focus on bold sun-bleached brights, salty surf graphics, and Madras plaids.There are also seaside graphics, breezy dresses, sweet plaids, and sunny colors in sizes up to 4T.
Plus, right now, you can save 10% off new arrivals. You don't even need a code, which is great. To shop the collection by gender and size, just use the links below:
Shop Girl New Madras Coast Arrivals at Tea Collection
Shop Boy New Madras Coast Arrivals at Tea Collection
Shop Baby Girl New Madras Coast Arrivals at Tea Collection
Shop Baby Boy New Madras Coast Arrivals at Tea Collection