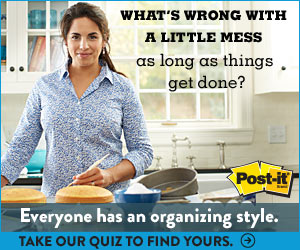 Was one of your New Year's Resolutions to get organized? If you saw my work desk, you'd know that organizing should be on my resolution list.
Except I didn't make resolutions. I made goals.
To help us all, Post-it has put together an organization style quiz. You answer six quick questions and find out your style.
Me? I got this:
GATHERER
You're unfazed by clutter. With an attitude of "out of sight, out of mind," you stash information – just in case you need it later.
Sounds about right.
Based on your style, you'll get recommendations for organizing your home, office, and on the go. At least, that's what I got since I said my office is my "command center." You actually get real tips that cater to your lifestyle. Mine gave me a tip about labeling my piles … which is smart because right now they are just piles.
I'm actually going to put these tips into practice. Plus, after you take the quiz, you can click on "special offers" and get Post-it coupons. Anything with Post-it always goes fast, so check them out now.
Take the quiz and let me know what style you got.