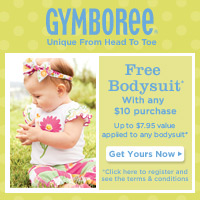 This is a super hot deal.
Right now, when you head over to this link, you can get a coupon for a free bodysuit with a $10 purchase at Gymboree.
The coupon is worth up to $7.95, which is great.
When you click that link to get the coupon, I advice you get it immediately. If not, you might have an issue trying to go back for it.
This is super great for those of you with a baby on the way … or who are just getting ready for a friend's shower.
This deal won't be around forever, so pick up your coupon for a free bodysuit at Gymboree now.