Citrus Lane: Get A Box Of Shipped Monthly For Your Newborn To 3 Year Old (Plus $10 Credit)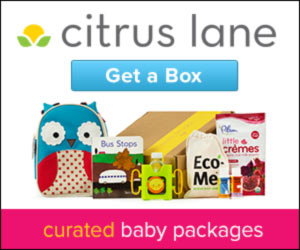 No kids here, but I'm always looking for cute kid stuff because we have kids in our extended family.
Must be why Facebook keeps putting an ad for Citrus Lane in my newsfeed. I finally gave in and checked it out and it's actually really cute. You sign up and every month, for between $21 and $25, you can get a box of age appropriate items shipped for your child, from newborn to 3. The boxes are all age and stage appropriate.
Even better, new members can get half off their first box with the code TAKEHALF. That is a limited-time offer.
And, if you sign up with my referral link for Citrus Lane, you will get a $10 credit. Plus, for every new person who signs up through your referral link, you will get a $10 credit.
Just for example: The May infant box included: iPlay Sun Protection Hat, Episencial Protective Face Balm, Green Toys Twist Teether, In My Ocean Board Book, and Episencial Sunny Sunscreen. The April box for toddlers included: Green Sprouts Organic Cotton Bath Puppet, Seventh Generation Natural Hand Wash, I'll See You In The Morning Board Book, Branam All Natural Xylitol Tooth Gel, Green Sprouts Stacking Cup Set, Juice Beauty Antioxidant Serum Deluxe Sample, and a Eco Mom gift card.